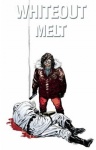 Oni Press Publisher Joe Nozemack informed ICv2 that a third and final Whiteout four-issue mini-series will be released beginning in the spring of 2008. Story and art will be by the original creative team of Greg Rucka and Steve Lieber. The first two Whiteout mini-series are available from Oni in trade collections.
The property will benefit greatly from publicity surrounding the Whiteout feature film (see 'Whiteout Casting Almost Complete'), which is currently scheduled for a spring or summer 2008 release.
Oni has been in the movie news frequently lately, with Courtney Crumrin and The Damned being optioned by Dreamworks (see 'Dreamworks Nabs Two Oni Titles'). A screenplay is currently being written for Scott Pilgrim, and famed director McG (Charlie's Angels) is on board to direct Maintenance, which is based on the Oni comic series by Jim Massey and Robbi Rodriguez.