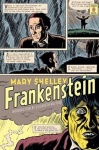 Starting this coming Sunday (September 16th), Daniel Clowes' new comic strip, Mr. Wonderful, debuts in the 'Funny Pages' section of The New York Times Magazine replacing Megan Kelso's Watergate Sue, which has finished its run. Mr. Wonderful, which Clowes loosely characterizes as a 'romance,' is his first major comic work since his stunningly brilliant The Death Ray, which appeared in 2004 in issue #23 of Eightball.
Also, on Sunday, October 7th, Clowes, Art Spiegelman and Alan Moore will all 'appear' in an episode of The Simpsons in which Comic Book Guy's old school comic store, The Android's Dungeon and Baseball Card Shop, is facing stiff competition from a new pop culture emporium, Coolsville Comics & Toys, run by a hipster character named Milo (voiced by Jack Black).
In addition to his comic strip in The New York Times and his appearance on The Simpsons, Clowes fans can look forward to his cover for the new Penguin Classics edition of Mary Shelley's Frankenstein, which is due out on September 25th.