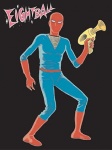 A teacher in Guilford, Connecticut resigned after being suspended because he gave an Eightball graphic novel to a high school freshman during the first week of school, according to the WTNH Website. The female student's parent complained to school administrators and the police, and the teacher was placed on administrative leave. The teacher resigned before an investigation was conducted.
Superintendent of Schools Thomas Forcella told the New Haven Register that the Daniel Clowes graphic novel was 'inappropriate for the grade level due to the content and the nature of the material.' Deputy Chief of Police Jeffrey Hutchinson would not give the paper a comment because the case was still open.
Eightball has won numerous Eisner and Harvey Awards, most recently for #23 in 2005 (see 'DC, Dark Horse Dominate Eisners'), and has appeared on numerous short lists of comics and graphic novels (see, for example, 'Eightball on Time Summer Reading List'). New Clowes work began appearing in the New York Times Magazine last Sunday (see 'Dan Clowes Comic in New York Times').