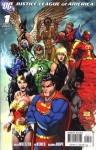 Variety is reporting that director George Miller (Mad Max) will helm a big screen live action Justice League of America film, which Warner Bros. is projecting as the studio's 'tentpole' offering for 2009. Casting has already begun for the film, which will likely be shot in Australia, and which Warners is anxious to get in the can before potential strikes that could cripple production next summer. The production of a JLA movie means that Bryan Singer's Superman sequel will be pushed back (Singer is currently busy filming Valkyrie with Tom Cruise in Germany).
According to Variety the JLA movie 'will likely feature Superman, Batman, Wonder Woman, the Flash and Aquaman,' but it is unlikely that Christian Bale and Brandon Routh will appear as Batman and Superman in the new JLA movie. The live action, special effects-laden JLA project is still not a sure thing since according to Variety Batman helmer Christopher Nolan wants it delayed, and with so many superhero roles to fill the project, which is based on script by Kieran and Michael Mulroney, is so very complicated and casting-dependent that, according to Variety, 'even those deeply involved in the project are holding their breath until production begins.'
However Warner Bros. badly needs a major production to beef up its summer 2009 schedule and is excited about the screenplay, while Miller, who recently directed the $375 million hit Happy Feet, currently has plenty of mojo with the studio.