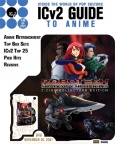 The first three-pronged salvo of Naruto titles from Viz Media has hit the mark according to the ICv2 Guide #48: Anime/Manga, which reports that the three simultaneously-released volumes of Naruto occupied the top spots on the BookScan chart of graphic novels sold in bookstores for four straight weeks (and they also all made it into the 'Top Ten' on Diamond's list of best-selling direct market graphic novels). The full effect of the release of 12 volumes of Naruto over just four months is yet to be seen, but the trend for the market's number one property (Naruto) certainly appears positive at this time.
Another trend noted in the Anime/Manga Guide was an increase in sexy seinen (older teen and young adult males) and josei (older teen and young adult females) manga series. Newcomer (to the U.S. market) Aurora Publishing is a subsidiary of the leading Japanese publisher of josei titles -- and the potential of josei manga is discussed in an stand-alone essay, 'Is Josei the Next Yaoi?' that is also an exclusive feature of the new ICv2 Guide.
In contrast to the burgeoning manga market, the number of anime releases, which fell by 19% in 2006, has shrunk a further 23% so far this year (in ICv2's analysis of numbers supplied by the DVD Release Report) and sales are also down (as are sales of DVDs overall) in 2007 with no comparable releases to hits like Final Fantasy VII: Advent Children and Howl's Moving Castle that sustained the market in 2006. American anime companies have responded to market conditions by cutting personnel and in the case of Geneon, by an attempt to strike a deal to have ADV take over all sales, marketing and distribution functions -- a deal that unfortunately fell through. While the highly successful first week debut of the Witchblade anime on DVD provides some hope that the market will bounce back during the second half of 2007, the outlook for the rest of 2007 remains mixed at best.
The new ICv2 Anime/Manga Guide also includes a section on 'Asian Live Action Cinema' as well as reviews of new manga, anime and live action films by noted librarians, retailers and members of the ICv2 staff. In addition the new Guide contains ICv2's 'Top 25 Anime Properties' list as well as its authoritative 'Top 50 Manga Properties' list, which is based on BookScan charts of bookstore sales and ICv2's analysis of direct market sales through Diamond Comic Distributors. Here are the top ten titles from each list:
ICv2's Top Ten Manga Properties for Q3 2007
1. Naruto
2. Fruits Basket
3. Bleach
4. Kingdom Hearts
5. Death Note
6. Pokemon
7. Vampire Knight
8. Tsubasa
9. Full Metal Alchemist
10. Millennium Snow
ICv2's Top Ten Anime Properties for Q3 2007
1. Afro Samurai
2. Dragon Ball Z
3. Pokemon
4. Naruto
5. Full Metal Alchemist
6. Hellsing Ultimate
7. Bleach
8. Highlander: Vengeance
9. Melancholy of Haruhi Suzumiya
10. Guyver
For information on how to obtain your copy of the ICv2Guide#48: Anime/Manga, with all the special feature articles, the complete Top Properties lists, and much more, see 'ICv2 Releases 'ICv2 Guide #48: Anime/Manga.'.'