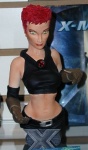 Diamond Select showed off a growing collection of licensed products and cool Japanese imports at its showroom at the New York Toy Fair this year. The Diamond Select Marvel Line is taking shape as are the more mass-market oriented Peter Cottontail and Island of Misfit Toys lines. In addition to all this licensed activity, Diamond's list of imported items from Japan continues to grow with Final Fantasy X, Trigun, Jin-Roh, and Gaogaigar toys as well as a host of 'kubricks' from both anime (Evangelion, Trigun) and Hollywood (Planet of the Apes, Simpsons) properties.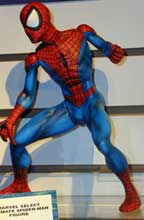 Marvel
Diamond Select's Marvel program is now well underway.
At Toy Fair, Diamond provided a first look at several resin busts including an
Ultimate X-Men Jean Grey,
and three great examples from the
Rogue's Gallery Collection
, the
Lizard
,
Sandman
, and
Kraven
, all of which were sculpted by Art Asylum.
Diamond Select also displayed a prototype of the
Ultimate Spider-Man Action Figure
, which Toy Biz is creating for Diamond Select.
One of the coolest items at the Diamond stand was the
Spider-Man Snow Globe.
Sam Greenwell, who is also responsible for Diamond Select's excellent
Spider-Man Bust
, sculpted a fine figure of Spidey, who is perched (in crystal globe) on the cornice of a building surrounded by gargoyles commemorating some of
Spidey's
archenemies including
Venom
, the
Lizard
,
Hobgoblin
, and the
Green Goblin
.
Shake the globe, and instead of snow, clouds of tiny black spiders fall over our hero.
Battle of the Planets, G-Force
This property is starting to pick up steam and should really gain some momentum when Top Cow publishes the Alex Ross supervised
G-Force
comic this summer (see '
G-Force is Back With a Vengeance
').
Diamond has 7-inch
Battle of the Planets
action figures, which should be out later this year as the property heats up.
The action figure prototypes Diamond had at Toy Fair, only hint at the kind of articulation and detail of the actual production figures, but the 12-inch
Battle of the Planets
figures, which Diamond is importing from Japan, where they were produced by Medicom, are totally cool and these 1/6th scale figures will also be available later this year.
Peter Cottontail
Diamond Select plans two series of resin figures based on the Peter Cottontail series of children's books (see 'Rabbit Seasoning'). Diamond is clearly hoping for a replay of what happened with another seasonal property, Rudolph and the Island of Misfit Toys, which became a surprise hit in toy and gift stores at the turn of the century. In addition to Peter Cottontail, Diamond also displayed a beefed-up Island of Misfit Toys line that it is readying for the 2002 holiday season. Certain pop culture retailers have done very well with Misfit Toys over the past few years, though the sales velocity slowed down somewhat in 2001.
Japanese Imports
Diamond continues to import lots of cool Japanese toys from some of Japan's leading toy manufacturers, and unlike many other companies who import licensed toys from the Far East, Diamond has managed to keep retail prices at reasonable levels, which has led to a great expansion of this side of their toy business.

Diamond's Toy Fair showroom had loads of 'kubricks' and great figures from the Final Fantasy X videogame, which was released just recently in the U.S., plus Evangelion figures, Trigun busts, Gaogaigar robots, the awesome trooper figure from Jin-Roh (see 'Diamond's Parade of Imports Continues'), and lots of other great stuff.

Look for continuing coverage of Diamond's Japanese imports on ICv2 throughout the year.