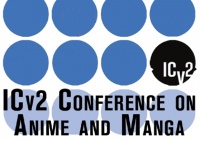 An ICv2 Release. Pop culture publishing and consulting company ICv2 has announced its first ICv2 Conference on Anime and Manga: 'Inside the Otaku Generation' at New York Anime Festival (NYAF), the new event being launched by the organizers of New York Comic Con.
NYAF will bring together more than 120 exhibitors, and will feature the latest in anime, manga, Japanese cinema, music, and games, as well as the best of anime-influenced comics, animation, and film from around the world. NYAF will be held on December 7-9, 2007 at the Jacob K. Javits Center in New York City.
The ICv2 Conference on Anime and Manga: 'Inside the Otaku Generation' will be held on Thursday afternoon, December 6, 2007 at the Javits Center, on the eve of NYAF.
'Anime and manga are a multi-billion dollar business in the U.S., with television programming, graphic novel and DVD sales, top-selling tabletop and videogames, and other licensed products all driven by the otaku (fans) that lead pop culture and technology adoption curves,' said ICv2 CEO Milton Griepp about the Conference. 'Understanding the 'otaku generation,' the powerful group of young consumers that are driving this phenomenon across multiple categories, can help anyone that wants to reach this audience and ride the wave of Japanese and Japanese-influenced content that's sweeping the globe.'
Confirmed panelists include top executives from anime and manga companies; from intellectual property houses; digital content, anime and manga, and youth marketing experts; and trade buyers. Among the many notable panelists and moderators are Lillian Diaz-Przybyl, Senior Editor for Original Global Manga Development, Tokyopop; Larissa Faw, editor of Youth Markets Alert; Gen Fukunaga, President and CEO of FUNimation Entertainent; Kurt Hassler, Co-Publisher, Yen Press, former buyer Borders Group; Al Kahn, Chairman and CEO, 4Kids Entertainment; James Killen, Graphic Novel Buyer at Barnes & Noble; Christopher Macdonald, Editor in Chief, Anime News Network Editor; Daniel Marks, Sr. VP of Strategy and Business Development, VIZ Media; Kevin McFeeley, VP Affiliate Sales and New Media, Anime Network; Dallas Middaugh, Associate Publisher, Del Rey Manga; John Nee, Sr. VP of Business Development, DC Comics; Lawrence Neves, Editorial Director, Pokemon USA; Jeremy Ross, Director of New Product Development, Tokyopop; and Jill Snider, Senior Brand Manager, FUNimation Entertainment.
Publishers; home media producers; toy and game companies; consumer product marketers; licensing professionals; programmers and studios; writers, artists, and other creators; retailers and distributors; and librarians and educators can all increase their understanding of this important pop culture phenomenon at the ICv2 Conference on Anime and Manga.
VIZ Media, LLC has signed on to support this important event for the future of anime and manga. 'We're grateful for the key support Viz is providing for the ICv2 Conference on Anime and Manga,' Griepp said of the relationship.
Tickets for the ICv2 Conference on Anime and Manga are now on sale on the NYAF Website:
Click here for the New York Anime Festival Website
Click here to be taken directly to the registration page.
ICv2 is the expert source on the businesses of manga and anime in North America. ICv2 covers pop culture in the anime, comics, games, toys, and movie and TV merchandise categories daily on its Website, ICv2.com, and in its magazine, the ICv2 Guide. ICv2 also provides consulting services to companies involved in the business of pop culture.
Headquartered in San Francisco, California, VIZ Media, LLC (VIZ Media), is one of the most comprehensive and innovative companies in the field of manga (graphic novel) publishing, animation and entertainment licensing of Japanese content. Owned by three of Japan's largest creators and licensors of manga and animation, Shueisha Inc., Shogakukan Inc., and Shogakukan Production Co., Ltd. (ShoPro Japan), VIZ Media is a leader in the publishing and distribution of Japanese manga for English speaking audiences in North America and a global licensor of Japanese manga and animation. The company offers an integrated product line including, magazines such as Shonen Jump and Shojo Beat, graphic novels, videos, DVDs and audio soundtracks and develops and markets animated entertainment from initial production, television placement and distribution, to merchandise licensing and promotions for audiences and consumers of all ages.
New York Anime Festival and New York Comic Con are managed by Reed Exhibitions (RX), the world's largest organizer of business-to-business events, a division of Reed Elsevier plc. Each year Reed events assemble over 90,000 suppliers and over 5 million buyers from around the world. BookExpo America is one of many Reed Elsevier properties within the Reed Global Book Publishing Network, whose trade events include the Asia International Book Fair, London International Book Fair, Salon du Livre: Paris Book Fair, Tokyo International Book Fair and BookExpo Canada, and whose Reed Business Information (RBI) properties include Publishers Weekly, Variety Magazine, Playthings, Video Business, Library Journal, and School Library Journal.
For more information on the ICv2 Conference on Anime and Manga, go to:
http://www.ICv2.com/articles/news/11472.html
For a full list and more information on the panelists at the ICv2 Conference on Anime and Manga, go to:
http://www.ICv2.com/articles/news/11471.html
ICv2 Conference on Anime and Manga Contact:
Milton Griepp
608-284-9400
Mgriepp@ICv2.com