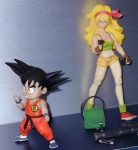 Dragonball Z is the number one series on the Cartoon Network, where the show appears an average of 17 times per week, so it's no surprise that Irwin Toy is placing a major emphasis on the expansion of its already huge line of DBZ toys. IF Labs, the toy company formed by Dragonball Z license holder Funimation Productions and Irwin Toy (see 'Funimation and Irwin Team Up For New DBZ Toys') to create 'McFarlanesque' collector's figures, is already branching out to include figures from the original Dragon Ball series as well as from Funimation's next offering, Yu-Yu Hakusho. While many independent pop culture retailers have done very well with DBZ toys in spite of heavy competition from mass-market retailers, cutting edge retailers have a considerable window of opportunity with toys from the original Dragon Ball series and Yu-Yu Hakusho since, in spite of the fact that these new series are starting to get airplay, neither property is yet to appear on Wal-Mart's radar screen.
Dragon Ball
The original Dragon Ball series, which has started its run on the Cartoon Network, contains less action than DBZ, but it's much funnier, and oddly enough, sexier (Bulma is a major babe). Paradoxically, the charming Dragon Ball series appeals to both a younger and an older demographic than does DBZ. IF Labs has two series of superb Dragon Ball figures. Bulma is in the first series, but Launch and Mai provide plenty of leggy good looks in Series 2. The mass-market retailers are fixated, as they should be, on DBZ, which is a major hit. The original Dragon Ball series may never equal DBZ in popularity, but it does have a chance to be a very strong property with a powerful appeal to anime fans.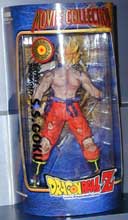 DBZ
Irwin Toys continues to expand the basic line of DBZ 5-inch action figures with five new series (#s 8 through 12) of figures. Each series contains five figures and some of the figures come with accessories like Babidi with her cocoon egg or with smaller figures like 'Kabito' who accompanies the Supreme Kai. Irwin is also adding four Secret Saiyan Warriors, figures that include an inner 4' fighting mode figure, so the toy can actually shed its outer shell and transform to the next power level. The popular 'Striking Z' fighters return with a series of four figures with each figure having the ability to perform a unique fighting action. Throw in four DBZ model kits, which have pre-painted pieces that snap together to form an articulated action figure, Deluxe Light-Up Figures that recreate the transformation to the Super Saiyan state, and both large and small vehicles and you have a very full and robust line of action figures.
IF Labs continues its creation of superb collector-oriented figures with a second series of its 9-inch DBZ Movie Collection Figures, which includes a great Battle-Damaged Vegeta figure along with Krillin and Goku in spacesuits and a silver Meta Cooler. The Movie Collection Figures come in colorful packaging with a huge window that really allows the quality of the figure to shine through.
Yu-Yu-Hakusho
Yu-Yu
is another property that is worth considering seriously.

Yu-Yu's popularity in Japan approached DBZ levels in TV ratings, and with more than 100 episodes, Yu-Yu can be a property with 'legs' that works in syndication.

Yu-Yu Hakusho just debuted on Saturday night on the Adult Swim Block of the Cartoon Network (see 'New Anime Series on Cartoon Network'), so now is the time for cutting edge stores to jump on this property.

IF Labs has two series of Yu-Yu Hakusho figures planned for 2002, the first of which ships in March.

These highly articulated 7-inch figures reflect the strong primary hues that dominate the anime with Yusuke in his all-green outfit and Kurama in a brilliant pink/red costume that matches her flowing hair.