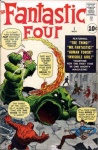 Marvel has launched a new Website service, Marvel Digital Comics Unlimited, where it will offer access to thousands of Marvel comics in a high resolution format for a monthly subscription fee. Users will be able to view the comics on the site during the period of their subscriptions, but will not be able to download comics onto their own computers. The initial archive, available at Marvel.com, offers 2,500 Marvel issues, but will not post new comics until six months after their publication.
Initial offerings include classics such as:
Amazing Spider-Man #1-#100
Fantastic Four #1-#100
Avengers #1-#50
And other key books such as the initial 66-issue run of Uncanny X-Men, and issues marking first appearances of key Marvel characters such as Spider-Man, Fantastic Four, Captain America, Incredible Hulk, Wolverine, Thor, Daredevil, Silver Surfer, Dr. Octopus, Sandman, and Dr. Doom.
Other offerings will include issues from 'Recent and Current Favorites;'
Whedon's Astonishing X-Men
Selected issues from the Ultimate line.
House of M
Amazing Spider-Man
New Avengers
Young Avengers
Runaways
And issues from Marvel's 'Young Reader Series:'
Marvel Adventures Spider-Man
Spider-Girl
Spider-Man & Power-Pack
Marvel Adventures Avengers
Marvel Adventures Fantastic Four
Franklin Richards: Son of a Genius
Marvel has re-colored and re-digitized some material for better presentation on the Web.
Three different viewing modes will be available: traditional single and double-page formats, and a new proprietary viewer called 'Smart Panel,' which Marvel says will take readers 'panel-by-panel through the comic book in a smooth, action-packed progression.'
The archive can be searched by character, creator, title, and date of publication. Member ratings will be used to recommend user favorites. And users will be able to share their personal reading lists with other members.
A selection of 250 issue will be made available as a free sampling to enourage visitors to subscribe.