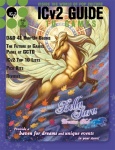 The quarterly ICv2 market report on game sales in the ICv2 Guide to Games #49 reported that retailers are heading into the holiday season in an optimistic mood, even after a mild blip in sales in August and September. Retailers are also generally optimistic about roll-out plans for Dungeons & Dragons 4th Edition.
ICv2 Guide to Games #49 also includes a transcript of the 'Future of Games Panel' held at Gen Con Trade Day in Indianapolis in August. The panel, moderated by ICv2's Milton Griepp, brought together executives at the frontiers of gaming, especially where tabletop games and electronic (especially online) games intersect and included Peter Adkison, CEO of Hidden City Games and Gen Con LLC; Greg Goldstein, VP of Gaming and Entertainment at Upper Deck; Randy Buehler, VP of Digital Games for Wizards of the Coast; and Scott Martins, Director of Development at Sony Online Entertainment. Panelists discussed the ways in which electronic and tabletop gaming are competing at times and intersecting in others; how new gamers can be recruited; and other key topics in the current game market.
This issue of the ICv2 Guide also includes ICv2's best-in-the-business bestseller lists in five game categories, as always. Here are the ICv2 Top Fives (longer lists are available in the magazine):
ICv2 Top Five CCGs
1. Pokemon
2. Yu-Gi-Oh!
3. Magic: The Gathering
4. Naruto
5. World of Warcraft CCG
ICv2 Top Five CMGs
1. ActionClix
2. Dungeon and Dragons
3. HeroClix
4. Star Wars Miniature Game
5. Pirates
ICv2 Top Five Non-Collectible Miniature Games
1. Warhammer 40,000
2. Warmachine
3. Hordes
4. AT-43
5. BattleTech
ICv2 Top Five Board, Card, and Family Games
1. Settlers of Catan
2. Ticket to Ride
3. Last Night on Earth
4. Talisman
5. Carcassonne
ICv2 Top Five RPGs
1. Dungeons and Dragons
2. World of Darkness
3. Scion
4. Battlestar Galactica
5. Exalted
For info on how to get your copy of the ICv2 Guide #49--Games, with the full market reports, the Future of Games panel transcript, bestseller lists, and reviews, see 'ICv2 Releases 'ICv2 Guide to Games' #49.'