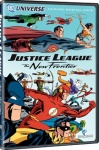 Warner Home Video has revealed the details of its February 26th, 2008 release of the direct-to-DVD animated feature film based on Darwyn Cooke's DC: The New Frontier graphic novel from 2004. Produced by animation veteran Bruce Timm, JLA: The New Frontier is the epic saga of the founding of the Justice League. The direct-to-DVD production features a top flight vocal cast including David Boreanaz, Brooke Shields, Lucy Lawless, Neil Patrick Harris, Miguel Ferrer, Kyra Sedgwick, Jeremy Sisto, and Kyle MacLachlan and will be available for an SRP of $19.98.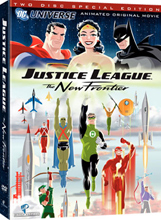 WHV is also producing a two-disc Special Edition of Justice League: The New Frontier ($24.98), which contains additional bonus features including a documentary, 'Legion of Doom: The Pathology of the Super Villain,' exploring the psyches of the monumentally evil, a featurette on bringing Darwyn Cooke's saga to the screen, plus three bonus episodes from the Justice League animated series selected by Bruce Timm.
Extras on both versions include a documentary on the 47-year history of the Justice League, audio commentaries from the filmmakers and author Darwyn Cooke, and perhaps most interesting -- a sneak peak at Batman: Gotham Night, a co-production between Warner Bros. animation and Japanese animators that is certain to be one of the most interesting animated releases of 2008 -- a sort of Animatrix-type anthology film that will be released just before the live action blockbuster Batman: The Dark Knight (see 'What's Next for DC's Direct-to-Video Line').
Warner Home Video is also releasing Justice Society: The New Frontier on Blu-ray and HD-DVD. It will also be available OnDemand and Pay-per-View as well as for downloading on February 26th.