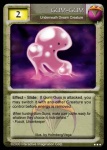 Interactive Imagination, the company that created the Magi-Nation Duel CCG, is providing input for the design of an online Magi-Nation game, but the CCG, which combined Magic the Gathering-like mechanics with cool anime style art, is still in limbo. The online Magi-Nation game is being developed by the Canadian company Tribal Nova for Cookie Jar Entertainment, which is co-producing (with the Korean company Daewon) the Magi-Nation animated series that is currently running on the Kids WB.
ICv2 talked with Rich Silviera, the CEO of Interactive Imagination, who expressed satisfaction with the Magi-Nation animated series, telling ICv2: 'People forget that when we created the Magi-Nation Duel CCG, it was intended for the 8-14 year-old demographic, Lots of older kids played it, but that was the original target demographic and we are very happy with the performance of the animated series so far.'
Silviera noted that Interactive Imagination had input on both the animated series and on the online game, Magi-Nation: Battle for the Moonlands, which is going into beta testing in December before going live in 2008. The online game is free to play with a Maplestory like business model in which players can upgrade via modest 'microcharges' that represent the game's sole revenue source.
When asked about the possibility of a revival of the Magi-Nation Duel CCG, which was one of the few American CCGs to make an impact on the Japanese market, Silviera said it was premature to talk about a new edition of the CCG whose fate is still 'to be determined.' While the animated series has done well so far, only 26 episodes have been made and Silviera is obviously hoping that the series will be renewed with a second 26-episode season ordered.