Associate Publisher of Del Rey Manga Dallas Middaugh announced a number of new publishing initiatives for the fall of 2008 at the New York Anime Festival, including five new manga series and two light novels written by one of Japan's hottest and most prolific young authors. Three of the five new manga series are shojo titles, while the other two are shonen.
In July Del Rey will release the first of its new manga, Kamichama Karin-Chu, manga-ka Koge-Donbo's sequel to her popular seven-volume Kamichama Karin manga (published here by Tokyopop) about a thirteen-year-old girl who discovers she can transform herself into a goddess. The Kamichama Karin-Chu manga series is a popular shojo series in Japan where it has already reached five volumes.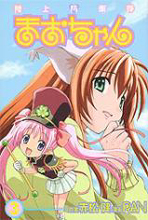 Two new Del Rey manga will debut in September including Mao-Chan, a 13+ shonen series based on a story and character designs by Love Hina and Negima creator Ken Akamatsu. Akamatsu created the property for a 2002 anime series. An artist in the Kodansha stable who goes by the name of RAN illustrated the Mao-Chan manga in 2003. Del Rey plans to publish the series, which appeared in four regular-size tankoubons in Japan, in two oversize 400-page volumes. The humorous saga takes place in a Japan which has been overrun by cute aliens and only the 8 year-old Mao-chan and her friends who can save Japan from this massive super-cuteness attack.
The other Del Rey September release is a true 'global' manga, Kasami, a cute shojo series about a teenage girl who can turn invisible as long as she holds her breath. Kasami involves a trans-oceanic collaboration between writer Surt Lim and Hirofumi Sugimoto, a professional manga artist, who in this series draws in a shojo style for the first time in his career.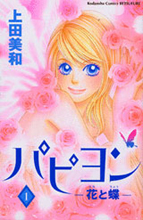 Miwa Ueda's Papillon, which debuts in October, is another promising shojo series from the author of the classic Peach Girl manga, which won the 'Kodansha Shojo Manga of the Year Award' in 1999 (and was published here by Tokyopop). The first volume of the 13+ rated Papillon came out in Japan in January of 2007 and this saga of twin sisters raised in different environments has definite echoes of Cinderella as Agetha, the 'plain' twin eventually undergoes a transformation (hence the title's butterfly reference).
All of the new Del Rey manga releases have strong pedigrees and lots of potential, but none more so than Gankutsuou: The Count of Monte Cristo, which is written by Mahiro Maeda, the noted artist and animator who worked for Studio Ghibli and GAINAX before becoming one of the founding members of Gonzo, where he directed the Gankutsuou anime series, a science fiction version of Alexander Dumas' classic revenge saga. Manga based on popular anime series such as Gankutsuou, which made numerous 'best anime of the year' lists when Geneon released it here in North America, have a very good track record in the American market.
Del Rey's new 'light novel' offerings also have lots of sales potential. Both of them were written by the palindromically-named author Nisioisin, one of the hottest young writers in Japan -- and one of the most prolific with an output of one book per month. Nisioisin is the author of Death Note: Another Note, which Viz Media is publishing in Q1 2008 and his initial Del Rey release has an almost equally popular manga pedigree and a name that echoes his work on Death Note -- xxxHOLIC: Anotherholic, which is based on the popular Clamp manga series that has been a fixture on the 'ICv2 Top 50 Manga Properties' list.
The second Del Rey Nisioisin release, which is due out in August, is an edgy thriller Zaregoto Book 1: The Kubikiri Cycle, a hip mystery novel narrated by a sarcastic teen who solves a mystery involving a locked room, a gang of teenage mensa members, and a series of beheadings.