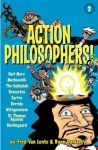 National Book Distribution has sold its small press distribution division, Biblio Distribution, to AtlasBooks, the distribution arm of BookMasters of Ashland, Ohio. Nearly 500 small publishers, including comic book publishers Exhibit A Press, Evil Twin Comics, and Knockabout Comics, will likely become clients of AtlasBooks under the same terms and conditions as their current Biblio contracts. Biblio also distributed Fanfare/Ponent Mon, the publisher of a number of high quality manga titles, to the bookstore market.
A few months ago Atlas Books assumed responsibility for the majority (around 70) of the clients of BookWorld Distribution after BookWorld went out of business. David Wurster, the CEO of BookMasters and AtlasBooks, told ICv2 that the acquisition of the nearly 500 Biblio small press publishers along with AtlasBooks current client base makes AtlasBooks the leading distributor (in terms of the number of client publishers) of small press books in North America.
Exhibit A Press publishes the works of Batton Lash, creator of Wolff & Byrd, while Evil Twin Comics has released three volumes of the consistently brilliant Action Philosophers series by Fred Van Lente and Ryan Dunlavey, and Knockabout Comics, the celebrated U.K. publisher, which has published volumes by Hunt Emerson (Lady Chatterley's Lover, Casanova's Last Stand), Alan Moore (A Disease of Language), Brian Bolland (Bolland Strips), and Rian Hughes (Yesterday's Tomorrows).