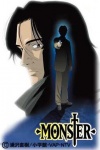 Viz Media has released a list of the anime properties it will be showcasing at the annual National Association of Television Program Executives (NATPE) conference and it includes several new properties including the popular Shonen Jump title Hunter x Hunter and Naoki Urusawa's Monster. While this means that Viz Media does have the rights to distribute these anime series, it doesn't necessarily mean that Viz Media will put the titles out on DVD.
Yoshihiro Togashi's Hunter x Hunter is an extremely popular manga property in Japan where the first 20 volumes have sold over 37 million copies. Viz Media publishes the Hunter x Hunter manga here in North America and released Volume 18 earlier this month (24 volumes have been published in Japan so far). Like Togashi's other major creation, Yu Yu Hakusho, Hunter x Hunter has made the transition to anime -- a 62-episode series from Nippon Animation aired initially in Japan from 1999 to 2001.
While Hunter x Hunter may be a more popular manga series in Japan than the older-skewing (16+) Monster, there is little doubt that Madhouse's anime adaptation of Naoki Urusawa's Monster is one of the most eagerly-awaited anime series by North American fans. Viz Media also publishes Urusawa's 18-volume Monster manga (Volume 14 is due out in April), a tense serial killer drama that deservedly won the Excellence Prize at the Japan Media Arts Festival in 1997 and Shogakukan Manga Award in 2001.
Monster is one of a handful of manga titles that comic retailers tell ICv2 they continually and successfully recommend to customers who don't normally read manga. Madhouse's 74-episode Monster anime, which initially aired on Japanese TV during 2004 and 2005, is an extremely faithful adaptation of the manga with every panel and scene from the book finding its visual equivalent in the anime -- and in this case, that's a very good thing.
Monster is the saga of a brain surgeon who defies his administrator's orders and makes a principled choice to save a young boy instead of an aging politician only to find that the 'innocent' life he saved just might be a horrific serial killer. It has such a gripping storyline that it's no surprise that Monster has been optioned for a live action feature by New Line Cinema with Josh Olson, who adapted A History of Violence, scripting the film for a 2009 release.