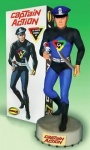 Captain Action Enterprises is reviving the sixties toy property with a comic, retro model, and statue all slated for release in 2008.

The original character, created as a toy by G.I. Joe creator Stan Weston, was first released in 1966.

The 60s toy had uniforms for a variety of licensed characters, allowing Captain Action to become Batman, Captain America, Lone Ranger, and a variety of other characters.

A short-lived DC comic series featured work by Jim Shooter, Gil Kane, and Wally Wood, among others.

The character was relaunched by Praying Mantis in the 90s.


The first product in the relaunch is a Captain Action Model Kit based on the original Aurora kit, produced by Moebius Models.

The 1/6 scale model will be released in an edition of 1000 at $34.99.

It's expected to hit the States in February.
The Moonstone Captain Action comic title will launch with a #0 issue to be released at New York Comic Con in April.

It will be written by Fabian Nicieza, with art by Mark Sparacio.

The $1.99 full color comic will feature two covers, one by Sparacio, and a variant collectable cover by Paul Gulacy.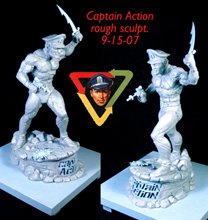 A statue is also planned from Electric Tiki, distributed by Sideshow Collectibles.

The sculpt will be by Ruben Procopio, a Disney animator. The $149.00 statue will be released in November 2008.