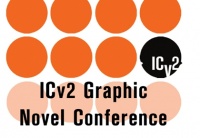 An ICv2 Release.

ICv2 has announced that it will host its signature ICv2 Graphic Novel Conference in association with New York Comic Con. The third annual ICv2 Graphic Novel Conference -- 'Breaking Out' will be held on Thursday afternoon, April 17th, at the Javits Center in New York.
The graphic novel phenomenon is sweeping publishing, with growing impacts on movies, TV, and licensing.

As graphic novels break out of a niche category and into the mainstream, new challenges and opportunities confront the market.

Join the key players in the industry as they discuss this rapidly changing landscape.


Two of the four sessions for the afternoon's Conference have been announced.

ICv2 will present its annual Graphic Novel White Paper, with detailed analysis of the 2007 trends and the outlook for 2008.

And the Conference will also host its Buyers Panel, in which some of the most important graphic novel buyers in the industry will share their insights into the market.


Registration is now available at the New York Comic Con Website -- click here.


Three sponsors have signed on to support this important event for the future of graphic novels:

VIZ Media, LLC; Transcontinental Printing; and Publishers Weekly.


VIZ Media, LLC
Headquartered in San Francisco, California, VIZ Media, LLC (VIZ Media), is one of the most comprehensive and innovative companies in the field of manga (graphic novel) publishing, animation and entertainment licensing of Japanese content. Owned by three of Japan's largest creators and licensors of manga and animation, Shueisha Inc., Shogakukan Inc., and Shogakukan Production Co., Ltd. (ShoPro Japan), VIZ Media is a leader in the publishing and distribution of Japanese manga for English speaking audiences in North America and a global licensor of Japanese manga and animation. The company offers an integrated product line including, magazines such as Shonen Jump and Shojo Beat, graphic novels, videos, DVDs and audio soundtracks and develops and markets animated entertainment from initial production, television placement and distribution, to merchandise licensing and promotions for audiences and consumers of all ages.


Transcontinental is the largest printer in Canada and seventh in North America, and is also the country's leading consumer magazine publisher and second largest community newspaper publisher.

From mass to highly personalized marketing, the company offers its clients integrated solutions which also include a diverse digital platform and a door-to-door distribution network of advertising material.

Transcontinental is a company whose values, including respect, innovation and integrity, are central to its operation.

Transcontinental (TSX: TCL.SV.A, TCL.MV.B) has more than 14,000 employees in Canada, the United States and Mexico, and reported revenues of C$2.2 billion (US $1.9 billion) in 2005.



Publishers Weekly
Publishers Weekly is the leading publication serving all segments involved in the creation, production, marketing and sale of the written word in book, audio, video and electronic formats.

It is the prime source of comprehensive news and provides unique industry data including an annotated bestseller list, hot deals and retail news.

A 134-year old magazine -- with over 100,000 dedicated readers -- PW is recognized as the leading publication for international and U.S. book publishing needs. PW's Website, PublishersWeekly.com is packed with great information from the hottest industry news to book reviews to the popular e-newsletters and much more.


The ICv2 Graphic Novel Conference is presented in association with New York Comic Con.


New York Comic Con
New York Comic Con is operated by Reed Exhibitions which is the world's leading events organizer. In 2006 Reed brought together over six million industry professions from around the world generating billions of dollars in business. Today Reed events are held in 34 countries throughout the Americas, Europe, the Middle East and Asia Pacific, and organized by 37 fully staffed offices. Reed organizes a wide range of events, including exhibitions, conferences, congresses and meetings. Its portfolio of over 460 events serves 52 industry sectors, including:

Aerospace and defense, building and construction, design, electronics, energy, oil and gas, entertainment, food and hospitality, gifts, healthcare, IT/telecoms, jewelry, manufacturing, marketing and business services, pharmaceuticals, property, publishing, security, sport and recreation, transport and logistics, travel. Working closely with professional bodies, trade associations and government departments Reed ensures that each and every event is targeted and relevant to industry needs. As a result, many Reed events are market leaders in their field.


Reed Exhibitions is part of Reed Elsevier Group plc, a FTSE-100 company and worldleading publisher and information provider.