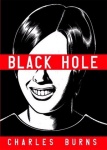 Variety is reporting that David Fincher will direct an adaptation of Charles Burns' graphic novel Black Hole for Paramount. Fincher, who directed the critically-acclaimed Zodiac as well as The Curious Case of Benjamin Button, which Paramount moved into the critical holiday spot vacated by the departure of J.J. Abrams' Star Trek movie, has, according to Variety, become a 'go-to director' at Paramount, which can only bode well for the Black Hole's actual chances of getting made.
Certainly Charles Burn's dark saga of a sexually transmitted disease passed among the teenagers in suburban Seattle that causes the afflicted teens to develop bizarre physical mutations would appear to be the right sort of material for the director of Se7en and Zodiac.
Last March Paramount announced that Neil Gaiman and Roger Avary were adapting Black Hole for director Alexander Aja (see 'Neil Gaiman & Roger Avary Adapting Black Hole').