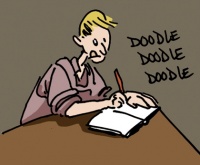 ICv2 recently caught up with Mark Siegel, Editorial Director for First Second for an update on the company's plans for the coming months. In Part 1, Siegel talks about First Second's 2007 successes, its spring 2008 releases, and plans with Paul Pope. In
Part 2, Siegel covers fall '08, spring '09 and the Prince of Persia graphic novel under development (for a past interview in which Siegel gave us an early look at some of the company's 2008 releases, see "Interview with First Second's Mark Siegel, Part 2").
What were your big hits for the second half of 2007 through the holiday season?
Laika and Robot Dreams have had all sorts of interesting things happen for them (Laika is Nick Abadzis and Robot Dreams is Sara Varon). It's a delightful thing to see happen. It's kind of interesting that these are both sort of on the young side; Laika is getting shelved a lot in the teen sections but it's not necessarily meant that way. And Robot Dreams definitely appears very young at first glance, but then many of the reviews caught on that it has strange, unexpected depth to it. Those have been really pleasant surprises. Both reviewed very well, and there's a lot of interest. There were a lot of invitations for Nick Abadzis; he spoke at the Smithsonian, he's been all over the place, and on the radio. That's been a fun thing to see take off.
In terms of sales, would Sardine still be your bestseller?
Sardine is up there, but it's not leading the sales. American Born Chinese is still going really, really strong, and I expect it's going to continue. Also the foreign sales on American Born Chinese have been amazing. We just sold rights in Czech. When I was in France at Angouleme, I just saw the proofs for the Norwegian version. We have China mainland and Taiwan, and Korea. I don't even know how many there are now, and what's interesting is that in some markets it's bringing the rest of the list with it so we're getting inquiries and interest in our other titles in places where there hasn't been much headway before. That side of things has been nice as well.
It's always been an important feature for First Second. I've always had the idea of two-way traffic with foreign countries. So those were two that really stood out in fall '07.
We're also publishing The Notes For a War Story, which is the new Gipi book and has reviewed very well also. That's kind of chugging along, but it didn't break away. That's a book that's going to be around for a long time.
That's fall and then spring '08 is still coming. We have Three Shadows and Life Sucks. 2008 is a big year for us because we're looking to pulling out some heavy artillery, so to speak.
Can you tell us more about Three Shadows?
Three Shadows is spring '08 and it's really incredible. It just won a big award at Angouleme -- one of the Five [2008 Essentials Awards]. What happens at sales conferences is normally you present your titles, and in this case, when this title came up there were two sales reps who had read it and started talking about it to the rest of the sales force, and put tears in their eyes. They were just so moved by this book. This is one that I think will grab people by surprise. At first glance, it has an almost Disney animation feel to it, even though it's pencil--very dynamic and swirling pencil -- it's not static or anything. You might think it's young and it looks like a fantasy setting in a semi-medieval world, but then where it goes is very surprising and deep and poignant. The author created it after a friend of his lost their two-year-old baby and he was just so overcome by grief he had to try to put it somewhere. And this story is what he did with it. That's going to speak very well for First Second in terms of bringing up unique kinds of talent and new kinds of talent.
Kaput and Zosky is the only other spring title we haven't talked about yet.
Kaput and Zosky is Trondheim's really funniest script. He does some of the artwork and there's also guy, Eric Cartier, takes up some of the other artwork. It's about these two bumbling evil, world-conquering aliens, but they're very bad at it. It's Trondheim at his best in dialogue and just crazy situations. It's really quite hilarious.
That and The Little Vampire book are both inaugurating this different trim size to separate out the youngest end of our list. So Zosksy's in that bigger format. We heard from a lot of librarians and some booksellers about Tiny Tyrant. They really like it, but the reduction made it so small for young eyes that we had to think about that. It was an issue with Tiny Tyrant specifically because we really were growing the young end of our list, and in that case it was a book that was in European album and was reduced down to the First Second format. It wasn't a comfortable reduction.
When are the Paul Pope projects coming out?
The first Paul Pope is coming out in fall '09, and that's going to be Babbling Boy, then THB will begin in 2010 [see "First Second Releasing 'Total THB'"]. There's a lot of stuff in the pipeline.
In 2007 we started taking the shape of what First Second really looks like, but then 2008 is interesting because you're going to see more weight on the adult side of our projects, especially fall '08 with the Prince of Persia, Slow Storm, Alan's War, which is a bio of an American G.I. in World War II, and the next Eddie Campbell, which is The Amazing Remarkable Monsieur Leotard, my personal favorite of any Eddie Campbell books to date.
When's that coming out?
The pub date is in September, but we'll have it at San Diego in July.
Click here for Part 2.