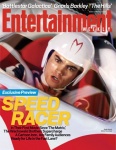 The Wachowski Brothers' Speed Racer film is the subject of a heavily-illustrated six-page cover story in this week's Entertainment Weekly. While EW's Benjamin Svetkey did not get to interview the reclusive Wachowskis, he did talk with producer Joel Silver, and more importantly he got to watch the first reel of the film, which he described as follows: "a family film alright, but a family film that has missed a couple doses of Ritalin. With a budget of $120 million, it's bristling with enough trippy special effects -- including nifty new focusing tricks and colors so insanely high-def they're nearly 3-D -- that even some grown-ups might find themselves mesmerized (or lapsing into seizures)."
Emile Hirsh (of Into the Wild), who stars as Speed, described one of the film's key techniques for EW as: "animation-style focus control, where two things can be in focus at the same time -- it makes the movie pop like a comic." According to Silver the original Speed Racer anime had a major effect on the Wachowskis when they were growing up -- and they are bringing a frenetic, intense, edgy quality to the film, which he compared with the freeway chase in The Matrix Reloaded, saying "The Wachowskis wanted to make a whole film like that -- only with racing cars."
The Wachowski's Speed Racer film premieres on May 9th, and there will be an abundance of Speed Racer merchandise available including comics from IDW and others (see "Speed Racer Times Three"), toys from Mattel (see "Mattel's Movie-Licensed Powerhouses"), and Speed Racer DVDs from Lionsgate. The new live action Speed Racer, which is Warner Bros.' first tentpole release of the summer movie season, will benefit from a major promotional campaign ($80 Million in Promo Support for Speed Racer"). It should also benefit from EW's cover story (note: Entertainment Weekly is a Time/Warner publication).