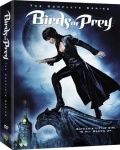 In July Warner Home Video is releasing Birds of Prey—The Complete Series, which collects the 13-episode DC Comics-based television series that aired on the WB Network during 2002 and 2003. In spite of averaging 7.6 million viewers (and leading the network in the 18-34 demographic), the series, which was based on elements from a number of DC Comics series and centered on the character of Helena Kyle, the Huntress, was cancelled within months of its debut (see "Birds of Prey Lose Altitude").
The four-disc Birds of Prey—The Complete Series box set (MSRP $39.98) includes all 13 episodes of the series plus the unaired series pilot in which Sherilyn Fenn (Twin Peaks) portrayed the psychiatrist Dr. Harleen Quinzel (aka "Harley Quinn," who was played by Mia Sara in all the broadcast episodes). Other cool extras include the entire Flash-animated Gotham Girls series that appeared on the Web from 2000-2002.
The Birds of Prey episodes will be presented in 1.78:1 matted letterbox format (unfortunately there will be no anamorphic transfer).