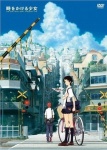 Bandai Entertainment has announced that
The Girl Who Leapt Through Time
(aka
TokiKake
) will receive a limited theatrical release this summer in both sub-only and English dubbed versions.
From June 13th to 19th the anime feature produced by Madhouse and directed by Mamoru Hosoda with character designs by Yoshiyuki Sadamoto (
Evangelion
) will be presented in a subtitled format at the
ImaginAsian
Center
in
Los Angeles
and in an English dubbed version at the ImaginAsian Theater in
New York City
.
The subtitled version will also be screened at the Varsity Theatre in
Seattle
from August 29th through September 4th, and other theatrical dates should be announced shortly.
Based on Tsutsui Yasutaka's novel, The Girl Who Leapt Through Time is a science fiction slice-of-life romance that has picked up a number of awards at animation festivals around the world including "Animation of the Year" at the Tokyo Anime Fair and "Best Animated Film" at the 39th Sitges International Film Festival. The 104-minute feature film was released in Japan in 2006. It is not a straight adaptation of the novel, rather it is a continuation of the story in the same setting only 20 years later—making it a sort of TokiKate: The Next Generation. In September CMX will release a Girl Who Leapt Through Time manga based on the original Tsutsui Yasutaka novel.
In addition to the theatrical release of The Girl Who Leapt Through Time, Bandai Entertainment also announced that veteran U.S. anime producer Toshifumi Yoshida was joining the company's production team. Yoshida has worked on adapting a number of high profile anime including Ranma 1/2 and Inuyasha for Viz Media, as well as the highly regarded Jin-Roh: The Wolf Brigade. According to the Internet message boards one of Yoshida's first projects at Bandai will be adapting the highly anticipated Gainax series, Gurren Lagann, which Bandai recently acquired (see "Bandai Gets Gurren Lagann").