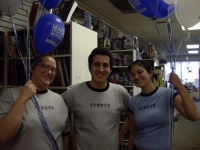 Nancy McCann of Comics Unlimited in Westminster, California shares her experience with Free Comic Book Day 2008 (see "National Comics Holiday this Weekend"), and says Saturday sales were three times normal:
We had a terrific FCBD! Sales were three times a normal Saturday. For the first time we did not have a signing.
Expenses were low. In addition to the FCBD comics, we spent six extra payroll hours, $60 for dinner out for the staff and volunteers (my son's girlfriend and his best friend helped all day), $10 to blow up the FCBD balloons at a local party supply store, FCBD T-shirts for the staff, and $30 for sale flyers.
Traffic and sales were up from previous years.
We did have an unadvertised sale, promoted in-store on FCBD with flyers. That worked out well. The sale was "buy seven graphic novels/hard covers get the eighth for a penny" and $.59 comics/20 for $5.00 (rather than our usual 10 for $5.00). Both of these sales worked great. People were happily digging through the sale bins and scanning the bookshelves all day long.
We gave one FCBD comic per person (letting them choose from 30+ titles). We also gave out tons of promo posters, comics, bookmarks, cards, and clix. Everyone was happy; no complaints. We had a steady flow of people from open to close (11 a.m.-7 p.m.).
We got coverage on CBR. One was a picture of our crew all decked out in the FCBD t-shirts. We have additional pictures on our e-mail newsletter (which you can view by visiting our website and clicking on our weekly newsletter).
From what I can tell, it was a great day for all who came in and for our staff. We had a good time, gave out lots of free stuff, and made great sales.
Next year, Jim Lee is our scheduled guest. Should be fun!
The opinions expressed in this Talk Back article are solely those of the writer, and do not necessarily reflect the views of the editorial staff of ICv2.com. Share your Free Comic Book Day story at Comments@ICv2.com.