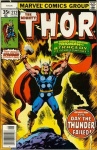 According to The Hollywood Reporter Matthew Vaughan (Layer Cake, Stardust) is no longer attached to direct Thor, which is scheduled to debut on June 4th, 2010. According to The Reporter, Vaughan's holding deal expired in December. Currently he is working on a screenplay based on another Marvel title, Mark Millar's Kick Ass.
Mark Protosevich, the screenwriter of I Am Legend, is now writing a draft of Thor, which Marvel Studios President Kevin Feige described as "very much a Marvel superhero story but against the backdrop of nothing you've ever seen before, a period fantasy in the vein of Lord of the Rings."
Feige also told The Reporter that all of Marvel's films, starting with the recently released Iron Man, are leading up the Avengers movie (see "Iron Man Sequel in 2010"), which Zak Penn is writing. It is slated to debut in July of 2011 and will feature Iron Man, Hulk, Captain America and Thor.