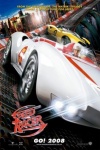 Warner Bros. is reportedly expecting a debut in the mid 30s for its garish, neon-bright live action Speed Racer movie, the Wachowski brothers' first directorial effort since the Matrix Trilogy. The estimate, which could prove to be low, is based on advance ticket sales and audience awareness surveys, though family films like Speed Racer are notoriously hard to track, which adds a high level of uncertainty.
Meanwhile Iron Man, which had earned $121 million through Wednesday, could suffer a 50-plus percentage decline and still remain the number one film unless Speed Racer breaks the $40 million dollar mark. Speed Racer will be in 3,600 locations, some 500 fewer than Iron Man and the film's none-too-speedy running time of 135 minutes (versus 126 for Iron Man), will cut the number of screenings per day somewhat.
Fox is counter-programming with What Happens in Vegas, which stars Cameron Diaz and Ashton Kutcher. Vegas is targeting the female audience and should do well, though it presents little in the way of a threat to either Speed Racer or Iron Man.
Critical reactions to Speed Racer are mixed at best with an only 37% positive rating on the Rotten Tomatoes Website. However, most reviewers who are fans of the original Speed Racer anime seem to think that the film is a must-see for older viewers partial to the original anime TV series, and younger generations raised on video games will find much to like in the Wachowski brothers' effects-laden, candy-colored, multi-plane, green-screen racing extravaganza, which has a lot more to do with Nintendo's Mario Kart than with auto racing's Le Mans. But one thing is clear--Speed Racer doesn't have a lot of time to reach its family audience (at least in theaters), because Disney's The Chronicles of Narnia: Prince Caspian, which has a proven track record when it comes to attracting families, will premiere next Friday, May 16th.