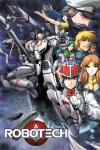 According to The Hollywood Reporter screenwriter Lawrence Kasdan, who penned Return of the Jedi, The Empire Strikes Back, and Raiders of the Lost Ark, has been hired to write the screenplay for Warner Bros.' live action Robotech film. Spider-Man star Tobey Maguire brought the project to Warners last September (see "Robotech Live Action"), and Maguire will produce along with Akiva Goldman, Chuck Roven, and Drew Cravello. The hiring of Kasdan and the addition of Goldman and Roven to the producing ranks indicates that Warners is becoming increasingly serious about getting this project to the big screen.
The Robotech cartoon, which license holder Harmony Gold cobbled together from three different anime (Macross, Southern Cross, Mospeada), is yet another vintage animated series that is getting the full live action treatment thanks to the tremendous success of the live action Transformers film. Although Warners has had little success with its Wachowski-helmed live action Speed Racer, the studio is reportedly pushing ahead with a He-Man & The Masters of the Universe production, while Paramount has a G.I. Joe film in production and a Voltron live action film is also in the works. Like Voltron, Robotech features giant robots (along with lots of cool fighter planes) and should benefit from the capabilities of modern computer-generated special effects.
For Lawrence Kasdan adapting Robotech means a continuation of his return to the realm of science fiction and fantasy. Kasdan, who followed his early success in writing big budget genre films with a number of personal projects including The Big Chill and Grand Canyon, recently finished scripting Clash of the Titans for Warners.
For retailers a new Robotech movie would be good news indeed given the wide variety of Robotech merchandise produced over the years including comics, toys, RPGs (see "More Robotech RPG Products"), DVDs, and video games.