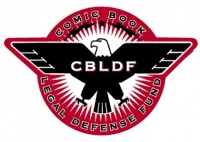 The Comic Book Legal Defense Fund is hosting its annual San Diego Comic-Con Welcome Party at the best party venue in San Diego, the Westgate Hotel's rooftop terrace, on Thursday, July 24th beginning at 7:30 p.m.
CBLDF Executive Director Charles Brownstein explained the history of the event. "For five years, this has been the go-to kick-off party for the professional community and the fan community that's in the know," he said. "The outdoor venue is a nice break from the sometimes claustrophobic confines of the show, and a great place for the movers and shakers from the business and art communities at Comic-Con to gather."
The CBLDF San Diego Comic-Con Welcome Party is sponsored by Image Comics, New York Comic Con, Newsarama, and ICv2.
The Drink and Draw Social Club, hosted by Dave Johnson and Dan Panosian with lots of special guests, will be making sketches available for donations.
Confirmed celebrity attendees include Jim Valentino and Erik Larsen, Peter David, Colleen Doran, Joe Linsner, and many more.
The first 300 attendees will receive an amazing gift bag (contents to be revealed soon).
Of course, all this is for a great cause. CBLDF members will be asked for a donation of $10 or more at the door, non-members for $20 or more.
See you there!