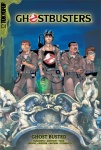 Tokyopop announced that it has acquired the rights to produce a manga based on Ghostbusters, a property that's getting a big push this fall in connection with the release of a new videogame. The videogame will be written by the original movie writers and feature the voices of the original movie cast, for release on all major platforms (PC, PS2, PS3, Wii, Xbox 360, and Nintendo DS).

Tokyopop's Ghostbusters manga, written by Matt Yamashita and Nathan Johnson, with art by Chrissy Delk, Maximo Lorenzo, Michael Shelfer, Nate Watson, and Hanzo Steinbach (cover), will street October 7th, timed to take advantage of the videogame release. The manga will also be cross-promoted with the videogame.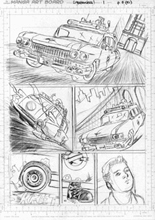 The storyline takes place between 1989 and 1992, the time period between
Ghostbusters 2
and the videogame.