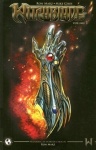 Variety is reporting that Michael Rymer, who has directed more than 20 episodes of the new Battlestar Galactica series, will helm the live action feature film based on Top Cow's Witchblade comic book. The live action Witchblade movie, which was announced this spring (see "Witchblade Prepped for Live Action"), is a co-production of Platinum Studios, Arclight Film, and Top Cow Productions.
According to Variety Rymer will also produce the Witchblade film along with Arclight's Gary Hamilton and Nigel Odell, Platinum Studios' Scott Mitchell Rosenberg, and Steve Squillante of Havenwood Media.
The Witchblade comic has been adapted to a number of other different media including a TV series that ran for two years on TNT, an anime TV series produced by Gonzo, and a manga that has been released in both Japan and the U.S.
Earlier this year Top Cow made the 160-page full color first graphic novel collection of its Witchblade comics available for a cover price of just $9.99.