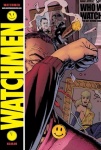 Titan Books will release three books tied to the Watchmen feature film in January, offering more opportunities to capitalize on the sizzling buzz the film is getting in the run-up to its premiere in March.
Watchmen: The Art of the Film, a hardcover, will include scores of production designs, set photos, costume sketches, storyboards and other pieces of conceptual art in color and b/w.
Watchmen: The Official Film Companion, in both hardcover and trade paperback editions, will feature exclusive interviews with the cast and crew and scores of photos, forming an essential guide to the film.
And Watchmen: The Film Portraits, a hardcover, will feature the b/w photos of Clay Enos, the official photographer on the set of Watchmen. Enos spent some of his time on the set shooting black and white portrait photographs of the lead and supporting characters, and even extras from the crowd.
Titan is also releasing Watching the Watchmen, by Dave Gibbons (see "Watching the Watchmen"), in October.