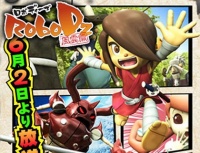 According to The Los Angeles Times Disney is revamping its free ad-supported Toon Disney cable channel and will re-launch it next February as Disney XD. It will target boys from 9-14 with an array of live action and animated programming that will include the Toei/Disney co-produced short form anime series RoboDz.
Thanks to shows like Hannah Montana and the High School Musical made for TV movies, the Disney Channel is already a huge hit with girls from 9-14, while Toon Disney, which shows a hodgepodge of animated series (including the anime series Digimon, Shinzo, and the French/Japanese co-production Oban Star Racers) and long-in-the-tooth live action series such as the Power Rangers, only manages to get 10-15% as many viewers as the Disney Channel in spite of the fact that it is available in just as many households.
The Times is reporting that Disney estimates that tween boys account for some $50 billion in spending worldwide. In addition to its purchasing power this demographic is highly desirable for advertisers who want to build brand loyalty. To attract this coveted audience Disney wants to create an entire network targeting tween boys with a mix of movies, live action series and animation. Building on its success with Hannah Montana, in which a teen girl leads a double life as a rock star, Disney XD will present a male fantasy version of Hannah Montana--Aaron Stone, a live action show about "a video game virtuoso who leads a secret life as a crimefighter."
The Disney XD channel will also continue to present animated series including Disney's Phineas and Ferb, and Batman: The Animated Series as well as RoboDZ, a Toei-produced CGI short form anime series (see "Disney, Madhouse Collaborating"), which is also likely to get plenty of exposure in various online venues (the first episode is already available on the series' homepage).
The changeover from Toon Disney to Disney XD will undoubtedly result in a considerable reduction in the number of minutes of anime programming available to American audiences, but since the viewership of Toon Disney was so low, and the network's three mainstay anime series (Digimon, Shinzo, & Oban Star Racers) have been rebroadcast so often, the effect will be minimal.