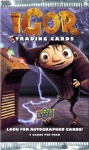 Upper Deck has announced that it is producing a series of trading cards based on the CGI-animated feature film Igor, which is slated to open on September 19th. The irreverent animated comedy is the saga of a mad scientist's hunchbacked lab assistant (named "Igor" of course) and his dreams of becoming a demented inventor in his own right and taking first prize at the annual Evil Science Fair. Written by Chris McKenna (American Dad) and directed by Tony Leondis (Lilo & Stitch 2), Igor features an all-star vocal cast that includes John Cusack, Steve Buscemi, John Cleese, Jennifer Coolidge, Arsenio Hall, Christian Slater, Jay Leno and Molly Shannon.
Upper Deck's Igor Trading Cards series consists of a 70-card base set and 22 chase cards, which include autograph cards from some of the film's voice cast (John Cusack, Jennifer Coolidge) as well as cards featuring never-before-seen storyboard concept art.
The Igor movie is just off center enough that it should appeal to an older demographic (like The Nightmare Before Christmas) as well as kids. In addition to Upper Deck's Igor Trading Cards, IDW is publishing a multi-part comic book prequel to Igor (see "Joe Hill, Angel & Igor") and Corgi did acquire the license to create Igor toys (see "Corgi Gets Igor, Beatles and Halo 3 Licenses"), though it is not immediately apparent if Corgi's successor Popco will produce and distribute (at least in North America) any Igor toys.