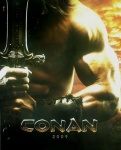 According to The Hollywood Reporter Lionsgate has hired screenwriters Dirk Blackman and Howard McCain to pen a second script for a new Conan movie, which the trade paper describes as "a $100 million R-rated origin film." Blackman and McCain co-wrote the science fiction/Viking movie Outlander, which will be released by The Weinstein Company, and have also penned an "Amazon" epic about the ancient female warriors, which will star a sword-wielding Scarlett Johansson, and which will also be distributed by Lionsgate.
As reported by ICv2 in January when Lionsgate was named the distributor for the new Conan epic (see "Conan Film Gets Distributor"), Thomas Donnelly and Joshua Oppenheimer were engaged to write the screen adaptation. Paradox Entertainment CEO Frederik Malmberg, whose company controls the rights to the Conan character, told The Reporter: "We all want this movie to go into production as soon as possible. It's a fast-tracked movie. Lionsgate felt the process was enhanced by having a second team come in and do a script."
According to The Reporter Malmberg and Lionsgate are attempting to "reboot" the Conan franchise, much like Warner Bros. has done with Batman Begins, and they feel the way to accomplish this is by going back to the original Robert E. Howard stories for inspiration, because as Malmberg put it "Fans expect these types of movies to be true to the source material."
Lionsgate, which is producing a number of comic book-based movies including Frank Miller's adaptation of The Spirit, is in a full-blown aggressive growth mode as it attempts to move up the ranks from a mid-major studio to the big leagues. Establishing a successful Conan franchise that could produce a new film every 2-3 years would definitely help Lionsgate reach its goal—and, given the amount of available Conan merchandise ranging from comic books to RPGs and board games, it wouldn't be bad for pop culture retailers either.