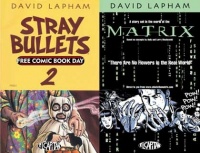 Expectations are high for Free Comic Book Day, the comic industry promotional event happening on May 4, the day after the Spider-Man movie opens (see 'Free Comic Book Day on May 4'). Diamond has announced that over 2 million comics are in the pipeline for the event, with around 2000 stores from all fifty states and 29 countries participating. Those stores are now indexed in the store locator system on the FreeComicBookDay.com Website, making it easy for fans to find a participating store near them.
The recent addition of the SCI FI Channel as a promotional partner provides added weight to the push (see 'SCI FI Channel To Do FCBD Cross-Promotion'). And a late addition to the giveaway comics, a Matrix/Stray Bullets flip book from El Capitan, will include the first meatspace version of the virtual comics that have populated the Whatisthematrix.com Website for years.
The 1000 comics per participating store average may not include all of the books that are going into this promotion, including books from store inventories and other sources. We asked the two promotionally minded retailers that were the subjects of our article on entertainment cards this week (see 'Merchandising Entertainment Cards') what they were expecting, and Dave Luebke of Dave's Comics in Richmond, Virgina said he expected 3500 people and Mimi Cruz of Night Flight in Salt Lake City, Utah, said she expected 3000-5000 people. Both are in mall locations, with Dave's at 1049 square feet and Night Flight at 1500.
We've heard some concerns about crowd control and general hassle factors, but Cruz and Luebke were unfazed. Both compared the event to earlier crazes, including Pokemon (circa 1999) and the Death of Superman (1993), and said they would take the giveaway outside of the store doors if the size warranted, allowing people that wanted to continue into the store to shop to do so.
Neither of the retailers we talked to was leaving the crowds to chance. Leubke is running a television campaign parodying a local furniture retailer's promotionally oriented ads with lines like, 'YOU NEED NO MONEY.' Cruz is doing a promotion with local libraries, mounting a public relations effort, and doing other community outreach.
The retailers are incorporating a variety of other elements into their comic giveaways, including stickers/stamps to make sure the source of the comics is associated with them wherever they go, other giveaways (such as promo cards), and bounceback coupons, that provide an incentive to return and make a purchase.
The retailers we talked to were optimistic about the results. Luebke put it simply, 'It has to be a good thing.'
Cruz took it back to the source.

'[Concept originator] Joe Fields is awesome,' she said.

'I loved his idea and I'm so pleased that everybody came together to make it such an affordable event.

We're silly and shortsighted if we don't make this happen like it should.'