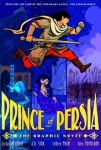 We recently spoke with First Second Editorial Director Mark Siegel for an update on the company's releases and its view of the market. In Part Two, we talk about First Second's bestselling books of all time, and the top prospects for Fall 2008 and for Spring 2009. In Part Three, we continue the discussion of First Second's 2009 publishing plans, (including First Second's first manhwa title), plus the company's efforts to target the education and library markets. In Part One, we talk about the state of the graphic novel market given the current economic conditions, and the response to First Second's releases from spring 2008.
Can you tell us about your top cumulative print runs?
Cumulative print runs for American Born Chinese are past 100,000 for some time now. Prince of Persia is 125,000. It's just going out and there's a 15-book floor display for it at Barnes and Noble.
What do you think effect of the Prince of Persia movie delay will be on the book sales (see "First Second Has Prince of Persia")?
For us it's like the third window of marketing: the book release, the next game, and the movie. The delay pushes it back for the third window, but it's not that significant for the first two-thirds of our campaign. I'm not too worried. In some ways it might work out nicely because Jordan Mechner's next book will be coming out around then, so it could turn out to be a blessing in disguise.
Mechner's next book?
His next graphic novel. It's a script he's doing for us--a trilogy called Solomon's Thieves, which we've been keeping under wraps. It's slated for spring 2010. It's going to be really strong, and this is before any movie and game, even though there are projects with that as well.
We had Jordan Mechner at San Diego and the panel room was really packed full. It was great. Really, really eager fans, all different kinds. And then about 10 minutes later on IGN there was a whole glowing report ending with two paragraphs about First Second and a link to us. It just drove crazy traffic to our site. All told it was one of the more fruitful panels for us.
That makes that connection between the videogame audience and the graphic novel, right?
Yes, it's surprising. Xbox Magazine is coming out with a really thoughtful, intelligent review about Prince of Persia, and really nailing it about some of its literary aspirations, which is does have. This could be a double-edged sword because we could have the fans really pissed off that we're not doing a straight adaptation from the game. We're not, we really went for some different kind of storytelling. There are references to the game, but they're in subtext, you have to dig around for them because it really wasn't the purpose first of all. We wanted to have something that First Second could be proud of no matter what, even if it tanks with gamers; but it didn't. We've had two starred reviews, one from Booklist and one from Kirkus, which is a nice feeling that on that side of things we're getting some thoughtful readers commenting about it. And Xbox just gave this really lovely review tackling some of the undercurrents and themes running through it. It was great.
We've talked before about the Fall '08 list. Other than Prince of Persia, what's the early response been on the next top sell-ins?
I think Eddie Cambell's The Amazing, Remarkable Monsieur Leotard is maybe our sleeper of the year. Speaking for myself, it's my favorite of any Eddie Campbell book so far. I feel it's Eddie doing Eddie Campbell without compromise, but also extending a hand to a big audience that he's really earned. So that one I'm pleased to say is off to a promising start.
Danika [Novgorodoff]'s book, Slow Storm. I always like it when we have a debut graphic novel. We're going to have quite a few of them in coming seasons. Danika I think is going big places.
What were the runs like on those titles?
20,000 on Eddie Campbell and I think 15,000 on Slow Storm--conservative first printing basically.
For Spring ('09), we talked about a new Gene Yang title...
That's called The Eternal Smile and it's going to knock so many socks off. The problem with following up a success like American Born Chinese is oftentimes there's a dip after that kind of meteoric rise, but I think this is going to prove that Gene Yang is not an accident. That's coming out April '09.
Is that your top release for Spring?
There's a few big things happening this spring. I'd say the two top releases are The Eternal Smile and The Photographer. The Eternal Smile is three short stories by Gene Yang and artwork by Derek Kirk Kim. The art is in three different styles--you wouldn't know it's the same artist--they're just stunning. And the writing, everything about them--it's just a big follow-up. I think it's going to build on American Born Chinese and just go to the next level. I'm very excited about that. The two of them are a bit of a dream team put together.
The other big title is The Photographer which we're breaking our format for. It's a non-fiction book. Emmanual Guibert is the artist but it's also with a photo journalist called Didier Lefèvre. It's his own words, about how he went into Afghanistan on foot from Peshawar in Pakistan. He went on foot with a team from Doctors Without Borders. Although normally I've never like mixing photographs and comics together, I had never seen an example that I found successful until this project. The comic draws you into the story of going in to a war torn Afghanistan with a team of doctors. You get to know these doctors; you get to understand how they set up these makeshift clinics. These are the true modern day humanitarian heroes, and then suddenly you see a contact strip and there's the real faces of the doctors or the Afghan war lord they were just bargaining with, or this little child that they're trying to save. And ever so often you get a full blown photograph. This guy, Didier, was an amazing photographer, very admired. He died a few years ago. This book sold 190,000 copies in France alone. It's a huge book and really important. It's 300 pages, full-color, large trim size, and $24.95 cover price, I believe.
That's a bit of a departure also.
It's a little bit of a different creature. We mostly keep very consistent in trim size and everything, but every so often we have cause to break--like our textbook. You'll see how this one makes sense; it feel like somewhere between a coffee table book and a big, important non-fiction comic. And it's just beautifully done in every way possible. We just released Alan's War, which is off to an exceptional start, with artwork also by Emmanuel Guibert, but in a very different style. That's about a WWII American G.I.
The Photographer is a big thing. Doctors Without Borders is joining us on the marketing plans. Guibert is going to be touring, he'll be at TCAF [Toronto Comic Arts Festival] in Toronto as a guest of honor. We're going to be having some things happening in New York as well around the time of that release next spring. A lot of stuff winding up for this one. It's just an incredible book. For me, it's not often you feel like you're doing a book that could change the world in some way. It has the potential of inspiring the next generation of humanitarian heroes. So that's something I'm excited about.