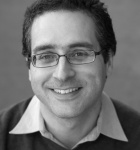 ICv2 recently spoke with Gonzalo Ferreyra, Viz Media Vice President of Sales and Product Marketing, to get his views on the state of the manga and anime markets and their trends. In Part Three, of this four part interview, we talk about the widening sales gap between top and mid or lower tiered anime titles, the mainstreaming of anime, and trends in online delivery of anime and manga. In Part Four, we talk about Viz Pictures, anime time lags, and some of the company's most exciting release plans for 2009, including a new science fiction publishing imprint. In Part One, we talk about the over-all manga market, changes by channel, and the evaluation a year later of the "Naruto Nation" release surge. In Part Two, we talk about the widening sales gap between top and other manga titles, Viz's plans for OEL projects, the changing demographics of manga readers, Borders' role in the manga market, over-all anime DVD market trends, and the state of anime on TV in the States.
As we are with manga, we're hearing that the spread of sales is changing, that some of the titles that you might have called otaku titles are declining in sales and the more mainstream titles holding steady or maybe even picking up a little. Are you seeing that kind of trend?
We're relatively immune from that phenomenon largely because of the nature of our list. It's not a particularly deep list; we are focused heavily on those A+ titles and are very, very cautious about our releases on what we would deem more otaku titles and have, again, a pretty realistic approach and expectation for those titles.
What about channels for anime? With the loss of a significant number of Suncoast outlets and some changes in the comic store channel, is it fair to say that anime DVDs are becoming more of a mass business?
Generally speaking, yes.
Is that a good thing?
Oh, boy--I don't know if it's a good thing or a bad thing. Right now with the changes in the DVD business, I can't really say where it's headed. You have so much activity online, you have a diminishing number of retailers right now, but the content is getting out there to the consumers, and I guess ultimately that's our focus right now.
The otaku community really supported anime in its first 20 years in the States, and as anime becomes more mainstream, both in a relative and perhaps on an absolute basis, that community seems to be declining in importance. Is that something you've observed, and if so, do you have any comment on that trend?
Ultimately we approach every title, no matter how mainstream, as an opportunity to grow the audience. But the reality is that core audience, that kernel audience of otaku is always of utmost importance. We are very conscious of addressing that audience and respecting the wishes of that audience while addressing the mainstream. We can never forsake that core audience.
Viz is doing some DTO (download to own) now and was early into the online world with Jetstream. Can you talk at all about where you think online anime delivery is going? Do you think it's going to be something that's going to be free, or something that people will pay for? What's working best right now from your perspective?
I think you're going to see a lot of experimentation in the next year or two before we really have the answer to that. And it's a little bit wild west right now in terms of the actual delivery. You're going to be seeing multiple options. I think folks are going to be trying many different delivery mechanisms. There's going to be free streaming available; there's going to be subscription models available; we know there's going to be DTO available; and what else will come up on the horizon, I can't even tell you.
This past year, we have taken a really close look at all of these options and I can't say that we've ruled any of them out. It's really too early to tell in terms of what's going to work to attract the consumer to essentially provide a support to the traditional broadcast model, and ultimately create fans for us.
We're hearing from some comic book and other retailers, who are maybe a little closer to the customers, that illegal online versions of manga are starting to have impact on their sales. You can look online and find most manga material published in Japan translated and available within a very short period after it's released in Japan. What are your thoughts on the progression of print to online delivery? Are you seeing any impact on sales? Do you view it as a threat?
It's really a very difficult thing for us to track or analyze. In terms of the growth we've seen, and you take like titles such as Naruto for example, widely available online in terms of the online "scanlations" they call them, and yet we're seeing record numbers of books shipped and sold through. I'd like to believe that to a certain degree it's actually a positive trend for us that it does attract fans who can check it out. It's not dissimilar to the idea that fans can view or listen to something and then become consumers for life, and I do think we're seeing some of that.
If it's positive to your sales, why not do it yourselves rather than let people get it illegally?
Don't get me wrong. I'm not sure that it's positive for sales; I'm just saying that I can't tell you that it's hurting us.
If it's a positive in terms of promoting, is that something you're looking at as doing a promotional effort on your own?
We do have a reader available on ShonenJump.com that previews selected titles, and I suspect we'll be doing more of that soon. In terms of a broad effort to go online, that isn't really in the works. I don't want to rule it out, but as part of our current initiatives, we may take another look at it.