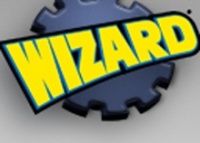 Fred Pierce, the President and COO of Wizard Entertainment, has left the company to pursue other opportunities, effective today. Pierce had been with Wizard for fourteen years. He joined the company in 1994 after Valiant Comics, where he had been Vice President of Operations and Manufacturing, was sold to videogame manufacturer Acclaim for $65 million.
Gareb Shamus, founder and Chairman of the Board of Wizard Entertainment, told ICv2 that "the parting was amicable, and we wish Fred well in his new endeavors." Shamus indicated to ICv2 that he is open to the idea of filling the position held by Pierce, but has no plans to do so at this time.
Wizard has experienced fairly heavy executive turnover and other changes in the last couple of years. Associate publisher Rob Felton left the company last December (see "Felton Leaves Wizard"); Wizard shuttered its game magazine Inquest last fall (see "Wizard Kills Inquest"); and EIC Pat McCallum left the company (see "Wizard EIC Out") and was replaced by Scott Gramling (see "Scott Gramling Named New Wizard EIC"). Other long-time employees in both the magazines and event division have left the company in the last couple of years.
Is this the end of the turnover? Shamus says that the company "has a lot of very talented management now." Since the collapse of the IFL, he's been more directly involved again at Wizard, and sees a lot of positive changes underway (see "Change of Pace at Wizard World Chicago").
Shamus also told ICv2 that Wizard is planning to expand the scope and press coverage of its events, starting with the unveiling next Tuesday of Toy Wishes Magazine's list of the 12 hottest toys for the coming holiday. The event, at the Javits Center in New York City, will feature a number of celebrities and representatives from all the major toy companies.
Wizard Entertainment publishes a number of notable magazines that target various areas of fandom including Wizard, ToyFare, Anime Insider, and the annual Toy Wishes holiday guide.