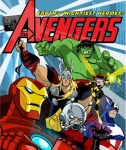 Marvel Entertainment has announced the production of an all new 26-episode animated series The Avengers: Earth's Mightiest Heroes. Film Roman, a division of Starz Media and producer of animation The Simpsons and King of the Hill, has already started work on the Avengers cartoon series, which will be available for broadcast in 2011.
The Avengers: Earth's Mightiest Heroes is a new iteration of Marvel's original team-up of superheroes featuring Iron Man, Hulk, Captain America, Thor, Giant Man and Wasp, who band together to defend the Earth from time-traveling conquerors, alien invaders, mythical monsters and mad robots.
Having the new Avengers animated series available in 2011 makes perfect sense because Marvel Studios will be releasing two live action Avenger-themed blockbusters that year, The First Avenger: Captain America on May 6th, and The Avengers on July 15th (see "Marvel Movies—Made in the USA").