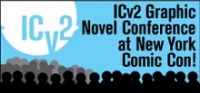 An ICv2 Release. The ICv2 Graphic Novel Conference will be held at the Javits Center in New York City on Thursday, February 5th, in association with the New York Comic Con, which begins the next day. These are the panelists currently booked for the event. More are being added regularly, and this page will be updated when they are. For more information on the Conference, see "The 2009 ICv2 Graphic Novel Conference."


Morning Sessions (10 a.m. to noon)--Graphic Novels and the Web


Comics on the Web--Marketing Tool or Revenue Stream?
Are comics on the Web a way to build audiences for properties that can then be monetized by sales of collections and licensing, or a critical source of advertising, DTO, or subscription revenue on their own?
Join our panelists as they discuss what's working and what's not in this potentially transformative arena.
Moderator -- Milton Griepp, ICv2

Milton Griepp is the founder and President of ICv2, since 2001 the undisputed industry authority on the graphic novel business.
He is a 30-year veteran of the pop culture business, and has managed companies that have sold over $1 billion in retail value of pop culture products as CEO of Capital City Distribution and Next Planet Over.
Eric Beaulieu -- General Manager, Transcontinental Transmedia
Eric Beaulieu has been in the graphic arts industry for more than 20 years. His background is diversified, from advertising agencies to print to interactive media. He joined Transcontinental in 2008 where, as in his previous role at Quebecor World, he develops and implements solutions to seamlessly connect and improve creative, IT and manufacturing processes. Beaulieu manages Transcontinental Transmedia, a division of creative designers, production and technology experts that help publishers address the multi-channel challenges of today.



Richard Bruning -- Sr. Vice President/Creative Director, DC Comics
Bruning has worked in the comic industry since (gulp) 1979. In the early 80s he served as Capital Comics Editor and Art Director. He was DC's Design Director from '85-90, working on Dark Knight and Watchmen. He also helped develop the company's collected editions program. After freelancing for 6 years as a designer, cartoonist and writer, he returned to DC as Creative Director. Recently he helped spearhead the creation of ZUDA, DC's first online editorial imprint.


Stuart Levy -- Chief Executive, Tokyopop
Stuart Levy's multifaceted entertainment background includes more than 14 years of experience in corporate management and creative development. He founded the TOKYOPOP Group, which includes six companies in the U.S., Japan, Germany, and Great Britain. As the company's Chief Creative Officer, Mr. Levy has launched TOKYOPOP's expansive product lines, in addition to overseeing intellectual property development. As an artist, Mr. Levy's production, music composition, writing, and directorial talents have been the driving force behind the company's premiere properties, such as Initial D, Rave Master and Princess Ai. In 2007, Mr. Levy founded TOKYOPOP Pictures, a film company dedicated to bringing TOKYOPOP intellectual property to the big screen, and TOKYOPOP Digital, which focuses on digital contents syndicated through broadband and mobile networks.

Dave Roman -- Associate Editor, Nickelodeon Magazine
Dave Roman is an associate editor at Nickelodeon Magazine, where he's worked since 1998 on various comic projects including special issues dedicated to SpongeBob, Avatar: The Last Airbender, A Series of Unfortunate Events, and more. He draws the webcomic series Astronaut Elementary and written several graphic novels including Agnes Quill: An Anthology of Mystery (Slave Labor Graphics), Jax Epoch & the Quicken Forbidden (AiT/PlanetLar), and The Adventures of Tymm: Alien Circus (Platinum Comics). He's had stories appear in Flight volumes 3, 4, & 5 (Villard), Bizarro World (DC Comics); and is one of the co-founders of the all-ages comic site Lunchboxfunnies.com and the videogame art site Lifemetercomics.com. Dave is currently collaborating with his wife Raina Telgemeier on a series of manga-inspired X-Men graphic novels called X-Men: Misfits for Del Rey.

Ira Rubenstein -- Executive V.P. Global Digital Media Group, Marvel Comics
Ira Rubenstein oversees Marvel's digital distribution strategy across all media and platforms, including Marvel's current proprietary digital consumer destinations -- Marvel.com, MarvelKids.com, and Marvel Digital Comics Unlimited - as well as through digital video, animated content, mobile games, casual games and strategic partnerships. He was recently included on the highly regarded "Digital 50" list; recognition for his work also includes Webby Awards, a Mobie awards, a Gold Clio and several Key Art Awards. He joined Marvel after more than 12 years with Sony, most recently as executive vice president of Sony Pictures Digital, where he was responsible for overseeing the division's production efforts to extend Sony Pictures properties into the digital marketplace through SonyPictures.com, mobile games and personalization products, casual games, and innovative strategic partnerships.

Comics and Social Networks

Publishers and creators are increasingly using social networks to nurture communities of readers. Hear from the most advanced practitioners of this new technique on how it's helping them connect with their audiences in a deeper way than ever before.

Moderator -- Milton Griepp, ICv2


Scott Allie -- Senior Managing Editor, Dark Horse Comics

Scott Allie writes and edits for Dark Horse Comics and Glimmer Train Press.
Current writing projects include
Solomon Kane
, a sequel to his 2003 horror series
The Devil's Footprints
, and other creator-owned work.
He edits
Buffy the Vampire Slayer
,
Hellboy
, and
The Umbrella Academy
, among other titles, and he launched the online comics anthology
Myspace Dark Horse Presents
in 2007.
He lives in
Portland, Oregon
.
Joe Keatinge -- PR & Marketing Coordinator, Image Comics

A lifetime obsessed with comics led Joe Keatinge to make them his life's pursuit, first as a colorist on the acclaimed superhero series
Savage Dragon
and later as a full-time employee of Image Comics. Since 2004 Keatinge has worked at Image in various capacities, most recently as their PR & Marketing Coordinator for the past two years. In addition, his creative endeavors include reviving Fletcher Hank's Stardust the Super Wizard in the
Next Issue Project #1: Fantastic Comics #24
with
Madman
cartoonist Mike Allred and co-creating the Harvey Award-winning anthology,
PopGun
.
Joe Quesada -- Editor-in-Chief, Marvel Comics

Joe Quesada wears many creative hats, as both an acclaimed writer-artist, and the current editor-in-chief of Marvel Comics. While still in his early 30s, Joe and his friend and partner, Jimmy Palmiotti, founded their own publishing company, Event Comics.
Marvel Comics came calling for Quesada, who'd been a creator for the company earlier, once again, and the "House of Ideas" carved out a new imprint within the company known as Marvel Knights, for Quesada to manage and edit.
The imprint revitalized several Marvel properties, turning them into top-selling books.
In 2000, Marvel recognized Quesada's success at Marvel Knights by making him the editor-in-chief for the entire Marvel line. Quesada spearheaded initiatives that aggressively packaged Marvel's comics into paperbacks, allowing for prominent placement and massive sales in the bookstore trade. Quesada has continued to land top-line talent for Marvel, courting such stars as award-winning TV and motion picture writer and director Joss Whedon and acclaimed novelist Neil Gaiman. Marvel is even adapting Stephen King's horror epic,
The Dark Tower
, into comics with the full advice and consent of King.
Filip Sablik -- Publisher, Top Cow Productions, Inc.

Filip Sablik is the Publisher of Top Cow Productions, Inc.
He's been in the business for eight years and just officially entered his thirties. Prior to his current post, he was the Vice-President of Marketing at Top Cow and before that Assistant Manager of Purchasing at Diamond Comic Distributors.
Occasionally, he does a bit of writing and drawing.
He loves comics.

Afternoon Sessions (1 p.m. to 5 p.m.)


Keynote Address: Art Spiegelman--"What the !@##*! happened to Comics?!"
The only graphic novelist ever to win a Pulitzer Prize, Art Spiegelman has been a leader and innovator in comics and graphic novels for four decades, both creatively and in how his work reaches the market.
Hear his thoughts on the changes in the medium, plus a Q&A session.
Literary Adaptations--Building on Success
Adapting prose novels into graphic novels has been one of the most successful areas of graphic novel publishing in the last couple of years. Publishers Weekly's Calvin Reid moderates a discussion of what's working, why it's working, and where the opportunities are for the future.


Moderator -- Calvin Reid, Publishers Weekly

Calvin Reid is a senior news editor at
Publishers Weekly
with responsibility for comics and graphic novel coverage.
He is also co-editor, along with Heidi MacDonald, of PW Comics Week, the magazine's weekly e-mail comics newsletter.

Jennifer Besser -- Executive Editor, Disney-Hyperion
Jennifer Besser is an Executive Editor at Disney-Hyperion, where she edits and acquires fiction, including the best-selling series Percy Jackson & the Olympians; Blue Bloods; and Artemis Fowl. Recently, Jennifer has had the pleasure of collaborating with brilliant teams of authors and artists to adapt some of these series into graphic novels.
Les Dabel -- V.P. Business Operations, Dabel Brothers Productions


Les Dabel is the Vice President of Dabel Brothers Publishing, and helps manage the company's day-to-day operations.
He founded the company in 2001 with his brothers, Ernst, Pascal and David.
The brothers had a desire to publish original material, but soon found a niche in working with popular literary authors, such as Dean Koontz, Jim Butcher and George RR Martin, to adapt their work to comics.
The company currently has a publishing and distribution relationship with Del Rey and will be working with Tor Books as well this year to bring
The Wheel of Time
to graphic novels for the first time.
He lives outside
Atlanta
with his wife, Danielle.
Ruwan Jayatilleke--Sr. V.P. Strategic Development-Acquisitions & Licensing, Marvel Comics
Ruwan Jayatilleke joined Marvel Entertainment in 2003 to diversify product offerings, help develop brand extensions, and bring new properties and writers to the fold.

After working at a number of children's different publishers including Scholastic Inc, Ruwan has served to develop and brand manage a number of top-tier properties at Marvel which include

Dark Tower

,

HALO

,

Ender's Game

,

The Stand

as well as managing certain animation, theatrical, and classic categories within Marvel's Consumer Products Group.

Recently, he served as the executive producer on Stephen King's "N." motion comic book episode which involved Marvel, Simon & Schuster, and CBS Mobile developing a unique digital experience, based on an original unpublished Stephen King short story.

The project was a blazing success and top-seller on iTunes, and had an incredible reach across the web and mobile handsets.

Sherrilyn Kenyon -- Bestselling Author


New York Times bestselling author, Sherrilyn Kenyon lives a life of extraordinary danger... as does any woman with three sons, a husband, a menagerie of pets and a collection of swords that all of the above have a major fixation with.

With more than sixteen million copies of her books in print, in over thirty countries, she certainly has a lot of friends to play with too.

Writing as Kinley MacGregor and Sherrilyn Kenyon, she is an international phenomenon and one of the founding authors of the current paranormal craze (her first paranormal novel was published in 1994). She's the author of several series including: The Dark-Hunters, The League, Brotherhood of the Sword, Lords of Avalon and the forthcoming Nevermore and Chronicles of Nick.

Her Lords of Avalon novels have been adapted by Marvel and her Dark-Hunter novels are now manga published by St. Martins and packaged Dabel Brothers Productions.

Her books always appear at the top of the New York Times, Publisher's Weekly and USA Today lists. The Kenyon Minions are a million strong and growing every day, all over the world.

Betsy Mitchell -- V.P./Editor-in-Chief, Del Rey Books
Betsy Mitchell came to Random House in 2002 to serve as V.P./Editor-in-Chief for Del Rey Books, after serving as an editor and publisher for various magazine and book publishers, including founding the Aspect line at Warner Books.

In 2004 she oversaw the launch of Del Rey Manga, which was named 'Best New Publisher of the Year' by ICv2.com and celebrated its first anniversary with the publication of its millionth volume of manga in print.

Marco Pavia -- Associate Publisher, Tokyopop
Marco Pavia began his professional book publishing career 16 years ago as an editor for Golden Books, where he edited bestselling books for children by authors such as Mercer Mayer and Richard Scarry.

In 1996, Pavia was hired as the editor for HarperCollins' new mass-market imprint that became HarperEntertainment.

He oversaw a list of more than 30 fiction, nonfiction, and novelty titles per year and created innovative publishing programs for entertainment-based properties such as the animated feature film Anastasia, the All-New Captain Kangaroo show, and Stuart Little.

In 1998, he was hired by the Perseus Books Group, for which he directed the editorial production department within the company's centralized publishing services group in Boulder.

Pavia arrived at TOKYOPOP in the summer of 2003, where he would eventually lead the marketing department for two years before his promotion to Associate Publisher in 2008.

His experience in launching new businesses and streamlining editorial and production efficiencies, combined with a vast publishing background, will help to position TOKYOPOP's publishing program as an innovative market leader as it continues to move into new areas of the book business.


ICv2 Graphic Novel Survey Report and White Paper
This year, the ICv2 White Paper presentation will be expanded to include an exclusive look at the results of a major survey of graphic novel buyers from comic stores, bookstores, and libraries conducted by ICv2 with the support and help of Reed Exhibitions. The survey will give a look at the reasons for the trends reported in the numbers, making this session even more invaluable.

Presented by Milton Griepp, ICv2
Milton Griepp is the founder and President of ICv2, since 2001 the undisputed industry authority on the manga and anime business.
He is a 30-year veteran of the pop culture business, and has managed companies that have sold over $1 billion in retail value of pop culture products as CEO of Capital City Distribution and Next Planet Over.
Graphic Novel Industry Summit
Executives from the largest comic and manga publishers, the largest book chain, the largest comic distributor, one of the largest direct market retailers and a representative of ComicsPro, the comic retailer association, and an important librarian gather to discuss the future of the graphic novel industry.

Moderator -- Milton Griepp, ICv2

Robin Brenner -- Teen Librarian, Brookline Public Library


Robin is Teen Librarian at the Brookline Public Library in
Massachusetts
.
She is the Chair of the ALA/YALSA Great Graphic Novels for Teens Selection List Committee in 2008, was a judge for the 2007 Eisner awards, and has covered graphic novels and manga for
Library Journal
,
School Library Journal
,
Voice of Youth Advocates
, and GraphicNovelReporter.com.
She gives lectures and workshops on graphic novels, manga, and anime all across the country.
Her guide
Understanding Manga and Anime
was nominated for a 2008 Eisner Award.
She is the editor-in-chief of No Flying No Tights, a graphic novel review site, as well as Sidekicks (for kids up to age 12) and the Lair (for older teens and adults).
Dan Buckley -- President and Publisher of Marvel Enterprises, Inc.

A native of
Fort Edward, New York
, Buckley entered his first tenure at Marvel in the international licensing division and eventually became a vice president for marketing services.
From Marvel he moved on to the Omnicon Group, Inc., a network of globe-spanning marketing agencies, gaining invaluable experience in Marketing and Communications.
Buckley then returned to Marvel, the company with which he "felt at home" and had absorbed working knowledge of all its many creative facets.
As the Publisher since 2003, Buckley has worked alongside the famous Marvel team of editors and managers to invigorate with great success the core Marvel Universe titles and characters.
He and Editor-in-Chief Joe Quesada continue to build what they see as a new "mindscape" at Marvel and further grow the burgeoning legitimacy that the comics industry is now beginning to enjoy.
Liza Coppola -- Sr. V.P., Corporate Relations & Partnerships, VIZ Media

Liza Coppola joined VIZ Media in June 2002 as the Director of Sales and Marketing for the home video division. Her role at VIZ Media quickly expanded to include the company's Publishing Division as well, she was responsible for all marketing and sales strategy related to book and home video product. In February of 2008 she moved over to head up Corporate Relations & Partnerships for VIZ Media. Ms. Coppola was with The Walt Disney Company, spending six years in managerial roles and overseeing the marketing for animation properties such as
101 Dalmations
,
The Mighty Ducks
and ABC's One Saturday Morning block. Most notably, she increased media value by $9 million, resulting in a 200% stetch of advertising expenditure.
James Killen -- Buyer, Barnes and Noble
James joined Barnes and Noble in 1979 while still a freshman at the
School of Visual Arts
. After managing several stores in
New York City
he was offered a position as a Buyer in 1987.
A life long comic-book fan he became the buyer for Science Fiction/Fantasy and Graphic Novels at B&N in 1998, just in time to see the graphic-narrative begin its explosion as an important story-telling medium to the mainstream audience.
Chris Powell -- General Manager, Lone Star Comics / mycomicshop.com

General Manager of the north Texas-based Lone Star Comics / mycomicshop.com, a 7-store chain and mail-order business specializing in comic books, games, toys, and collectibles.
Having been with Lone Star since 1989, Chris manages the day-to-day operations of the 7 stores and assists with the IT needs and planning for the web-based store.
Chris is President Pro Tem of ComicsPRO.org and serves as the Chair of the Mentoring Committee, serves on the Advisory Board for the Game Store Resource Forum, and is a member of the Board of Directors of the Comic Book Legal Defense Fund.
Bill Schanes -- V.P. Purchasing, Diamond Comic Distributors, Inc.

Bill Schanes has over 30 years' experience in comic retailing, distribution, and publishing. In 1971, he co-founded the legendary independent Pacific Comics (which published comics by Jack Kirby, Steve Ditko, and Dave Stevens, among others), then joined Diamond in 1985. He is a member of Diamond's management team, and is very interested in Diamond's ongoing efforts to expand the market placefor both retialers and suppliers.
Transcontinental Printing Cocktail Reception (5 p.m.-6 p.m.)!
After the final session of the day, enjoy a chance to meet and mingle with fellow attendees, speakers, and guests, courtesy of event sponsor and major graphic novel printer Transcontinental Printing.
Register Today!
Click here for the New York Comic Con Website.
Click here to be taken directly to the registration page.
Conference Sponsors:



Transcontinental Printing
The largest printer in
Canada
and sixth-largest in
North America
, Transcontinental is also the country's leading publisher of consumer magazines and French-language educational resources, and its second-largest community newspaper publisher. Transcontinental distinguishes itself by creating strategic partnerships that integrate the company into its customers' value chain, notably through its unique newspaper printing outsourcing model and its value-added services. From mass to highly personalized marketing, the company offers its clients integrated solutions which include a continent-leading direct marketing offering, a diverse digital platform and a door-to-door advertising material distribution network. Transcontinental is a company whose values, including respect, innovation and integrity, are central to its operation.
Transcontinental (TSX: TCL.A, TCL.B) has more than 15,000 employees in
Canada
, the
United States
and
Mexico
, and reported revenues of C$2.3 billion in 2007. For more information about the Corporation, please visit
www.transcontinental.com
.

Publishers Weekly
Publishers Weekly is the leading publication serving all segments involved in the creation, production, marketing and sale of the written word in book, audio, video and electronic formats. It is the prime source of comprehensive news and provides unique industry data including an annotated bestseller list, hot deals and retail news. A 134-year old magazine -- with over 100,000 dedicated readers -- PW is recognized as the leading publication for international and U.S. book publishing needs. PW's Website, PublishersWeekly.com is packed with great information from the hottest industry news to book reviews to the popular e-newsletters and much more.



New York Comic Con

New York Comic Con and New York Anime Festival are managed by Reed Exhibitions (RX), the world's largest organizer of business-to-business events, a division of Reed Elsevier plc.
Each year Reed events assemble over 90,000 suppliers and over 5 million buyers from around the world.
BookExpo America is one of many Reed Elsevier properties within the Reed Global Book Publishing Network, whose trade events include the Asia International Book Fair, London International Book Fair, Salon du Livre:
Paris Book Fair, Tokyo International Book Fair and BookExpo Canada, and whose Reed Business Information (RBI) properties include
Publishers Weekly
,
Variety Magazine
,
Playthings
,
Video Business
,
Library Journal
, and
School Library Journal
.
Gift Bag Sponsor:

VIZ Media, LLC
Headquartered in San Francisco, California, VIZ Media, LLC (VIZ Media), is one of the most comprehensive and innovative companies in the field of manga (graphic novel) publishing, animation and entertainment licensing of Japanese content. Owned by three of Japan's largest creators and licensors of manga and animation, Shueisha Inc., Shogakukan Inc., and Shogakukan Production Co., Ltd. (ShoPro Japan), VIZ Media is a leader in the publishing and distribution of Japanese manga for English speaking audiences in North America and a global licensor of Japanese manga and animation.

The company offers an integrated product line including, magazines such as Shonen Jump and Shojo Beat, graphic novels, videos, DVDs and audio soundtracks and develops and markets animated entertainment from initial production, television placement and distribution, to merchandise licensing and promotions for audiences and consumers of all ages.