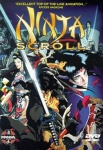 Warner Bros. has acquired the rights to make a live action adaptation of Ninja Scroll, the 1993 anime feature directed by Yoshiaki Kawajiri. It's being written by Alex Tse, who wrote the Watchmen script. No director is attached at this time.
The Ninja Scroll feature was released on home video in the U.S. by Manga Entertainment; the anime TV series by Urban Vision.
The property was in development at Threshold back in 2002 (see "Ninja Scroll Crosses the Threshold").
This lays to rest the rumor from earlier this year that a live action adaptation was already in question (see "Is Ninja Assassin a Live Action Ninja Scroll?"). Ninja Assassin, a totally unrelated film, is in postproduction, with a J. Michael Straczynski (who also had a hand in this weekend's The Changeling) script credit.