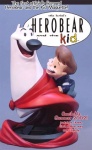 Mike Kunkel's Hero Bear and the Kid is one of the fastest growing self-published comics. Joe Ferrara of Atlantis Fantasyworld told ICv2 that Hero Bear was the number one selling comic in his store (see 'Better Retailing -- Expanding Your Sales to Women'). Electric Tiki Design has just unveiled a 7' Hero Bear and the Kid Maquette that fans of the series will really enjoy. A 'maquette' is a 3-demensional figure used by animators as a reference for character drawing, and Tracy Lee, the founder of Electric Tiki Design spent 13 years working in feature animation for the Disney studio, so he is very familiar with the use and appeal of these carefully crafted figures. The Hero Bear and the Kid Maquette is a cold cast, fully painted resin bust of Hero Bear with a full figure of the Kid hanging on his neck. The edition is limited to 1,000 pieces worldwide and each figure has a reasonable retail of $59.00. A deluxe edition of 100 'black-and-white' figures will come with a certificate of authenticity signed by Mike Kunkel as well as a sketch (retail $129.00).
In addition to Hero Bear, Electric Tiki Designs is also producing a line of maquettes inspired by vintage TV series including Bewitched, I Dream of Jeannie, and the Dukes of Hazard.

The Hero Bear and the Kid Figure will be listed in the next issue of Diamond Previews and FM International's Request Line.