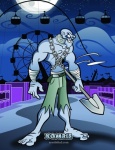 Xombie: The Animated Series, an animated series by James Farr, has been picked up by Halo-8 Entertainment, which plans a limited theatrical release early next year, followed by a DVD. The Xombie property was the basis of the Xombie: Reanimated limited series and graphic novel release from Devil's Due, as well as a Dirge Figure from Devil's Due Pop (see "Devil's Due Pop Comic Merchandise").
The first ten Webisodes that make up the Animated Series have accounted for over 13 millioin downloads to date.
The storyline concerns Dirge, a dead man who struggles against his cravings to reunite a lost child with her family.
Halo 8 has previously released The Devil's Muse, Threat, N.Y.H.C., and the Slumber Party Slaughterhouse DVD game.