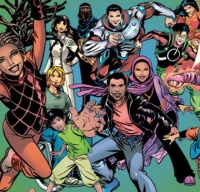 The Kuwaiti-based Teshkeel Media Group has announced an agreement with the Dutch company Endemol (Big Brother) to create a series of 30-minute animated TV shows based on The 99, a superhero comic that is popular in the Middle East and South Asia. The 99 specifically targets Islamic audiences that have previously only had access to Western (or Japanese) comics and animation. The 99 is a reference to the Moslem holy book, the Quran, which cites that number of attributes possessed by Allah. The young superheroes of The 99 come from all over the globe and each possesses one of the 99 attributes. Teshkeel has tapped artists with experience working for Marvel and/or DC to help create The 99 comic book series, which has found increasing acceptance in the Middle East and in Southeast Asia. The Wall Street Journal reports that Teshkeel is selling more than a million copies of The 99 comics per year.
According to Naif Al Mutawa, the Kuwaiti entrepreneur behind Teshkeel, the stories in The 99 comics are about ethics, not religious dogma. The young heroes trace their inspiration back to the sacking of Baghdad in the 13th Century during which the world's largest library (at the time) was sacked and burned. The 99 display Islamic values and work to bring wisdom and reason back to the world, but no one in the comic prays and there is no mention of scripture or the Prophet Mohammed. One heroine does wear a burka, but others do not.
While the Teshkeel Media Group has yet to turn a profit, it has begun getting the sort of marketing arrangements with companies like Nestle that could bring it to profitability and TMG is also planning a Disneyland-like theme-park in Kuwait.