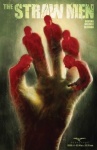 Variety is reporting that Benderspink has acquired the film rights to Michael Marshall Smith's crime novel, The Straw Men as well as to the comic book adaptation of the novel published by Zenescope Entertainment. The Straw Men comic, which is written by Zenescope honcho Joe Brusha, debuted in June (see "Zenescope Gets 'The Straw Men'"). Chris Bender and J.C. Spink will produce The Straw Men movie with Zenescope's Brusha and Ralph Tedesco serving as executive producers.
The Straw Men novel, which appeared in 2002, is the first book in a trilogy that involves serial killers, some apparently random brutal murders, and a dark conspiracy. Michael Marshall Smith, who has written a number of science fiction novels under his own name, adopted the shorter "Michael Marshall" for The Straw Men and his other crime fiction. According to Variety the chief protagonist of the movie will be ex-homicide detective John Zandt who comes out of retirement to track down the serial killer who may have been responsible for the murder of his daughter.
Benderspink has been one of the most active Hollywood production companies engaged in adapting comic book properties. Among the numerous comic-based projects that Benderspink has initiated are adaptations of Y: The Last Man, Pet Robots, Pencilneck, Zombies of Mass Destruction, Last Blood, Starkweather, Area 52, The Ghouly Boys, Power and the Glory, Drafted, and The Gray Area.