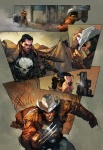 Marvel has announced its second wave of online-first comics that will be available exclusively to Marvel Digital Comics Unlimited subscribers. The new title wave begins on December 10th with Astonishing Tales: Wolverine/Punisher written by C.B. Cebulski and illustrated by Kenneth Rocafort. The highlight of this new wave of online comics is the Holiday Special Issue, which bows on December 17th. The Holiday Special includes three seasonal stories, "X-Men: Blue Christmas" by Jim McCann and Todd Nauck, "Werewolf By Eve" by Ben Morse and Stephanie Buscema, and "Santa Claus vs. The Illuminati?" from the team of Brian Reed and Val Semeiks.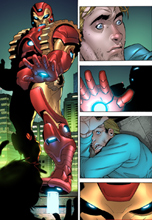 Astonishing Tales: Iron Man 2020
written by Daniel Merlin Goodbrey with art by Lou Kang is slated for release on Christmas Eve. Meanwhile Jonathan Hickman and Nick Pitarra's
Astonishing Tales: Mojoworld
(featuring Cannonball and Sunspot from the
New Mutants
) debuts on New Year's Eve along with
Wolverine: Agent of Atlas
written by Jeff Parker with art by Benton Jew.