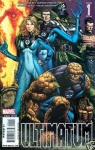 These are estimates of the sales by Diamond U.S. to comic specialty stores during November 2008.
For an overview and analysis of comic sales in November, see "Leading Comics Absent in November."
For an analysis of the dollar trends in November, see "'Fables' Tops Comic Book Store GNs

."
For our estimates of actual sales by Diamond
U.S.
from comic specialty stores on graphic novels shipped during November, see "
Top 300 Graphic Novels Actual--November 2008
."
TOP 300 COMICS -- November 2008

Rank

Index

Title

Price

Pub

Est.Qty

1

110.74

ULTIMATUM #1 (Of 5)*

$3.99

MAR

114,230

2

100.00

BATMAN #681 RIP*

$3.99

DC

103,151

3

88.00

HULK #8*

$2.99

MAR

90,776

4

86.19

WOLVERINE #69

$2.99

MAR

88,910

5

75.40

UNCANNY X-MEN #504 MD

$2.99

MAR

77,773

6

74.28

AMAZING SPIDER-MAN #577*

$3.99

MAR

76,625

7

73.19

CAPTAIN AMERICA #44*

$2.99

MAR

75,493

8

71.94

BUFFY THE VAMPIRE SLAYER #19

$2.99

DAR

74,202

9

70.64

JSA KINGDOM COME SPECIAL SUPERMAN #1*

$3.99

DC

72,862

10

69.18

JUSTICE SOCIETY O/AMERICA #20*

$2.99

DC

71,355

11

67.40

BATMAN CACOPHONY #1 (Of 3)*

$3.99

DC

69,522

12

66.85

AMAZING SPIDER-MAN #576

$2.99

MAR

68,956

13

64.53

AMAZING SPIDER-MAN #578

$2.99

MAR

66,564

14

62.24

DETECTIVE COMICS #850 RIP (NOTE PRICE)

$3.99

DC

64,196

15

61.57

X-MEN LEGACY #218 XOS 4

$2.99

MAR

63,512

16

59.46

FANTASTIC FOUR #561*

$2.99

MAR

61,331

17

56.76

ACTION COMICS #871 NEW KRYPTON*

$2.99

DC

58,547

18

56.50

DARK TOWER TREACHERY #3 (Of 6)*

$3.99

MAR

58,279

19

55.49

X-FORCE #9

$2.99

MAR

57,241

20

55.46

JSA KINGDOM COME SPECIAL KINGDOM #1*

$3.99

DC

57,205

21

55.19

FINAL CRISIS RESIST #1

$3.99

DC

56,931

22

54.51

AVENGERS INVADERS #6 (Of 12)*

$2.99

MAR

56,224

23

53.86

JSA KINGDOM COME SPECIAL MAGOG #1*

$3.99

DC

55,560

24

53.74

SUPERMAN #682 NEW KRYPTON*

$2.99

DC

55,435

25

53.39

STAND CAPTAIN TRIPS #3 (Of 5)*

$3.99

MAR

55,076

26

50.59

ULTIMATE SPIDER-MAN #128

$2.99

MAR

52,187

27

49.43

NIGHTWING #150 RIP*

$3.99

DC

50,993

28

48.82

WOLVERINE ORIGINS #30 XOS 5

$2.99

MAR

50,359

29

48.06

DEADPOOL #4

$2.99

MAR

49,577

30

47.85

INVINCIBLE IRON MAN #7

$2.99

MAR

49,356

31

45.81

MARVEL ZOMBIES 3 #2 (Of 4)

$3.99

MAR

47,253

32

45.56

SECRET INVASION X-MEN #4 (Of 4) MD

$2.99

MAR

46,994

33

45.03

ULTIMATE X-MEN #98

$2.99

MAR

46,446

34

44.13

SUPERGIRL #35 NEW KRYPTON*

$2.99

DC

45,518

35

43.60

TRINITY #23

$2.99

DC

44,971

36

43.14

TRINITY #24

$2.99

DC

44,498

37

42.58

THOR MAN OF WAR

$3.99

MAR

43,927

38

42.47

TRINITY #25

$2.99

DC

43,804

39

42.27

GREEN LANTERN CORPS #30

$2.99

DC

43,600

40

41.89

TRINITY #26

$2.99

DC

43,210

41

41.63

BATMAN & OUTSIDERS #13 RIP

$2.99

DC

42,939

42

40.24

TITANS #7

$2.99

DC

41,507

43

39.94

DAREDEVIL #113

$2.99

MAR

41,200

44

39.90

SECRET INVASION INHUMANS #4 (Of 4)

$2.99

MAR

41,162

45

39.80

IRON MAN DIRECTOR O/SHIELD #35 SI

$2.99

MAR

41,059

46

38.84

AVENGERS INITIATIVE SPECIAL

$3.99

MAR

40,064

47

37.76

ANGEL AFTER THE FALL #14

$3.99

IDW

38,954

48

36.72

TEEN TITANS #65

$2.99

DC

37,880

49

36.18

CABLE #8

$2.99

MAR

37,315

50

35.67

UMBRELLA ACADEMY DALLAS #1*

$2.99

DAR

36,791

51

34.79

X-MEN MANIFEST DESTINY #3 (Of 5) MD

$3.99

MAR

35,885

52

34.69

INCREDIBLE HERCULES #123

$2.99

MAR

35,780

53

34.66

X-FACTOR #37

$2.99

MAR

35,754

54

33.93

ULTIMATE FANTASTIC FOUR #58

$2.99

MAR

34,995

55

33.72

SKAAR SON OF HULK #5

$2.99

MAR

34,779

56

33.61

ADVENTURE COMICS SPECIAL GUARDIAN #1 NEW KRYPTON*

$2.99

DC

34,674

57

33.58

THUNDERBOLTS #126

$2.99

MAR

34,640

58

32.26

WONDER WOMAN #26*

$2.99

DC

33,277

59

31.64

SANDMAN DREAM HUNTERS #1 (Of 4) (MR)*

$2.99

DC

32,638

60

29.83

X-MEN SPIDER-MAN #1 (Of 4)

$3.99

MAR

30,774

61

29.58

GUARDIANS OF GALAXY #7*

$2.99

MAR

30,516

62

29.31

YOUNG X-MEN #8 MD

$2.99

MAR

30,237

63

29.07

PUNISHER WAR JOURNAL #25 SI

$3.99

MAR

29,982

64

27.64

IRON MAN END

$4.99

MAR

28,507

65

27.53

ROBIN #180

$2.99

DC

28,399

66

27.44

NOVA #19

$2.99

MAR

28,306

67

27.40

BOOSTER GOLD #14

$2.99

DC

28,260

68

27.18

STAR WARS LEGACY #30 VECTOR PART 11 O/12

$2.99

DAR

28,032

69

26.20

TERROR TITANS #2 (Of 6)

$2.99

DC

27,023

70

25.93

FLASH #246

$2.99

DC

26,746

71

25.60

BRAVE & BOLD #19

$2.99

DC

26,407

72

25.26

SECRET SIX #3

$2.99

DC

26,053

73

24.82

GREEN ARROW BLACK CANARY #14

$2.99

DC

25,599

74

24.66

VENOM DARK ORIGIN #4 (Of 5)

$2.99

MAR

25,439

75

24.37

BLACK TERROR #1*

$3.50

DE

25,133

76

23.91

PUNISHER MAX #64 (MR)

$2.99

MAR

24,660

77

23.83

WEAPON X FIRST CLASS #1 (Of 3)*

$3.99

MAR

24,577

78

23.81

X-MEN MAGNETO TESTAMENT #3 (Of 5)

$3.99

MAR

24,555

79

23.74

WOLVERINE CHOP SHOP

$2.99

MAR

24,486

80

23.47

CIVIL WAR HOUSE OF M #3 (Of 5)

$2.99

MAR

24,207

81

23.47

GHOST RIDER #29

$2.99

MAR

24,205

82

23.36

WALKING DEAD #54 (MR)

$2.99

IMA

24,093

83

23.31

SUPERMAN SUPERGIRL MAELSTROM #1 (Of 5)

$2.99

DC

24,041

84

23.25

MS MARVEL #33

$2.99

MAR

23,980

85

23.22

MOON KNIGHT #24

$2.99

MAR

23,947

86

23.16

WALKING DEAD #55 (MR)

$2.99

IMA

23,885

87

23.00

SPAWN #186

$2.95

IMA

23,725

88

22.90

DAREDEVIL & CAPTAIN AMERICA DEAD ON ARRIVAL (MR)

$4.99

MAR

23,623

89

22.78

RUNAWAYS 3 #4

$2.99

MAR

23,496

90

22.63

FABLES #78 (MR)

$2.99

DC

23,345

91

22.57

CONAN THE CIMMERIAN #5

$2.99

DAR

23,277

92

22.22

LEGION OF SUPER HEROES #48

$2.99

DC

22,917

93

22.21

BATMAN CONFIDENTIAL #23

$2.99

DC

22,909

94

21.95

SGT ROCK LOST BATTALION #1 (Of 6)

$2.99

DC

22,641

95

21.51

CAPTAIN BRITAIN AND MI 13 #7

$2.99

MAR

22,189

96

20.99

SUPERMAN SUPERGIRL MAELSTROM #2 (Of 5)

$2.99

DC

21,652

97

20.94

BATGIRL #5 (Of 6)

$2.99

DC

21,595

98

20.86

X-MEN WORLDS APART #2 (Of 4)

$3.99

MAR

21,519

99

20.32

BIRDS OF PREY #124

$2.99

DC

20,959

100

20.31

TERRA #1 (Of 4)

$2.99

DC

20,950

101

20.30

SHE-HULK 2 #35

$2.99

MAR

20,940

102

20.20

SUPERMAN BATMAN VS VAMPIRES WEREWOLVES #3 (Of 6)

$2.99

DC

20,835

103

20.08

PUNISHER WAR JOURNAL ANNUAL #1

$3.99

MAR

20,717

104

19.87

NEW EXILES #14

$2.99

MAR

20,493

105

19.23

SQUADRON SUPREME 2 #5

$2.99

MAR

19,833

106

19.13

STAR WARS KNIGHTS O/OLD REPUBLIC #35 VINDICATION PART 4

$2.99

DAR

19,734

107

18.83

SUPERMAN BATMAN VS VAMPIRES WEREWOLVES #4 (Of 6)

$2.99

DC

19,423

108

17.80

TERRA #2 (Of 4)

$2.99

DC

18,364

109

17.70

GHOST RIDER DANNY KETCH #2 (Of 5)

$3.99

MAR

18,259

110

17.26

BATMAN GOTHAM AFTER MIDNIGHT #7 (Of 12)

$2.99

DC

17,802

111

17.20

MS MARVEL SPECIAL STORYTELLER

$2.99

MAR

17,741

112

16.99

TANGENT SUPERMANS REIGN #9 (Of 12)

$2.99

DC

17,523

113

16.87

RANN THANAGAR HOLY WAR #7 (Of 8)

$3.50

DC

17,398

114

16.85

NEW WARRIORS #18

$2.99

MAR

17,385

115

16.78

ADAM LEGEND O/BLUE MARVEL #1 (Of 4)

$3.99

MAR

17,308

116

16.66

ANITA BLAKE VH LAUGHING CORPSE #2 (Of 5) (MR)

$3.99

MAR

17,187

117

16.50

WORLD O/WARCRAFT #13

$2.99

DC

17,017

118

16.40

ETERNALS ANNUAL #1

$3.99

MAR

16,916

119

16.39

SUB-MARINER DEPTHS #3 (Of 5)

$3.99

MAR

16,906

120

16.26

ENDERS GAME BATTLE SCHOOL #2 (Of 5)

$3.99

MAR

16,771

121

16.17

KULL #1 (Of 6)

$2.99

DAR

16,678

122

15.55

X-FILES #1 (Of 6)*

$3.50

DC

16,042

123

15.46

X-MEN PIXIES & DEMONS DIRECTORS CUT

$3.99

MAR

15,944

124

15.18

BPRD THE WARNING #5 (Of 5)

$2.99

DAR

15,663

125

14.66

HOUSE OF MYSTERY #7 (MR)

$2.99

DC

15,120

126

14.08

JACK OF FABLES #28 (MR)

$2.99

DC

14,528

127

13.98

INVINCIBLE #55

$2.99

IMA

14,422

128

13.95

AMAZING SPIDER-GIRL #26

$2.99

MAR

14,389

129

13.76

EX MACHINA #39 (RES) (MR)

$2.99

DC

14,194

130

13.66

DARKNESS #71 (MR)*

$2.99

IMA

14,095

131

13.57

RED SONJA #39

$2.99

DE

13,994

132

13.43

WOLVERINE FIRST CLASS #9

$2.99

MAR

13,857

133

13.15

BROKEN TRINITY #3*

$2.99

IMA

13,566

134

13.15

REIGN IN HELL #5 (Of 8)

$3.50

DC

13,565

135

12.57

GEARS OF WAR #2 (MR)

$3.99

DC

12,964

136

12.32

TOP 10 SEASON TWO #2 (Of 4)

$2.99

DC

12,710

137

12.15

JONAH HEX #37

$2.99

DC

12,537

138

12.07

AUTHORITY #4

$2.99

DC

12,450

139

12.05

AGE OF SENTRY #3 (Of 6)*

$2.99

MAR

12,428

140

12.01

TRANSFORMERS ALL HAIL MEGATRON #5

$3.99

IDW

12,387

141

11.96

MADAME XANADU #6 (MR)*

$2.99

DC

12,340

142

11.72

LONE RANGER #15 (MR)

$3.50

DE

12,093

143

11.61

AMBUSH BUG YEAR NONE #4 (Of 6)

$2.99

DC

11,972

144

11.10

BLUE BEETLE #33

$2.99

DC

11,452

145

11.10

HELLBLAZER #249 (MR)

$2.99

DC

11,445

146

10.94

WILDCATS #5

$2.99

DC

11,280

147

10.89

JUNGLE GIRL SEASON 2 #1*

$3.50

DE

11,237

148

10.86

VIXEN RETURN O/LION #2 (Of 5)

$2.99

DC

11,206

149

10.68

MANHUNTER #36

$2.99

DC

11,017

150

10.26

100 BULLETS #97 (MR)

$2.99

DC

10,580

151

10.23

UNKNOWN SOLDIER #2 (MR)

$2.99

DC

10,553

152

10.05

SPIRIT #23

$2.99

DC

10,372

153

9.96

DOCTOR WHO FORGOTTEN #3

$3.99

IDW

10,271

154

9.84

GARTH ENNIS BATTLEFIELDS NIGHT WITCHES #2 (Of 3)

$3.50

DE

10,147

155

9.74

NORTHLANDERS #12 (MR)

$2.99

DC

10,048

156

9.70

TRANSFORMERS SPOTLIGHT BLURR

$3.99

IDW

10,011

157

9.63

BACK TO BROOKLYN #2 (Of 5) (MR)

$2.99

IMA

9,929

158

9.34

GRIMM FAIRY TALES #32

$2.99

ZEN

9,632

159

9.32

ANNA MERCURY #4 (Of 5) (MR)*

$3.99

AVA

9,609

160

9.29

SIMON DARK #14

$2.99

DC

9,582

161

9.27

JIM BUTCHERS DRESDEN FILES STORM FRONT #1 (Of 4)

$3.99

DAB

9,564

162

9.17

GRANT MORRISONS DOCTOR WHO #2

$3.99

IDW

9,463

163

9.17

GEN 13 #24

$2.99

DC

9,460

164

9.11

GOON #30

$2.99

DAR

9,401

165

8.96

TINY TITANS #10

$2.25

DC

9,239

166

8.71

END LEAGUE #6

$2.99

DAR

8,988

167

8.64

AIR #4 (MR)

$2.99

DC

8,913

168

8.61

TAROT WITCH O/BLACK ROSE #53 (MR)

$2.95

BRO

8,879

169

8.58

DMZ #36 (MR)

$2.99

DC

8,851

170

8.42

STREET FIGHTER II TURBO #2*

$3.95

UDO

8,690

171

8.40

STAR TREK LAST GENERATION #1

$3.99

IDW

8,664

172

8.22

MICE TEMPLAR #6

$2.99

IMA

8,482

173

8.22

FANTASTIC FOUR TRUE STORY #4 (Of 4)

$2.99

MAR

8,481

174

8.02

SIMPSONS COMICS #148

$2.99

BON

8,272

175

7.99

BODY BAGS (ONE SHOT) (MR)

$5.99

IMA

8,239

176

7.97

TRUE BELIEVERS #5 (Of 5)

$2.99

MAR

8,218

177

7.87

SPIDER-MAN LOVES MARY JANE SEASON 2 #4 (Of 5)

$2.99

MAR

8,114

178

7.46

WAR THAT TIME FORGOT #7 (Of 12)

$2.99

DC

7,700

179

7.34

MARVELS GREATEST COLLECTIONS 2009 (BUNDLE OF 25) (Net)

$10.00

MAR

7,570

180

7.32

WONDERFUL WIZARD OF OZ SKETCHBOOK (BUNDLE OF 25) (Net)

$10.00

MAR

7,554

181

7.31

STAR TREK MIRROR IMAGES #5

$3.99

IDW

7,536

182

7.21

GHOSTBUSTERS THE OTHER SIDE #2

$3.99

IDW

7,437

183

7.20

MAN WITH NO NAME #5

$3.50

DE

7,427

184

7.02

AVENGERS FAIRY TALES #4 (Of 4)

$2.99

MAR

7,246

185

6.96

HELLBLAZER PRESENTS CHAS KNOWLEDGE #5 (Of 5) (MR)

$2.99

DC

7,184

186

6.88

GRAVEL #6 (MR)*

$3.99

AVA

7,099

187

6.74

SONIC THE HEDGEHOG #194

$2.25

ARC

6,948

188

6.71

SAMURAI LEGEND #3 (Of 4) (MR)

$5.99

MAR

6,923

189

6.71

FOOLKILLER WHITE ANGELS #5 (Of 5) (MR)

$3.99

MAR

6,917

190

6.70

SCALPED #23 (MR)

$2.99

DC

6,910

191

6.65

DEAD O/NIGHT DEVIL SLAYER #3 (Of 4) (MR)

$3.99

MAR

6,856

192

6.62

STORMWATCH PHD #16

$2.99

DC

6,824

193

6.60

FUTURAMA COMICS #40

$2.99

BON

6,808

194

6.58

MOUSE GUARD WINTER 1152 #4 (Of 6)

$3.50

ARS

6,789

195

6.57

SAVAGE TALES #10 (MR)

$4.99

DE

6,779

196

6.57

YOUNG LIARS #9 (MR)

$2.99

DC

6,775

197

6.53

GREATEST HITS #3 (Of 6) (MR)

$2.99

DC

6,737

198

6.46

FLASH GORDON #3

$3.99

ARD

6,665

199

6.28

GIGANTIC #1 (Of 5)

$3.50

DAR

6,480

200

6.25

SIR APROPOS O/NOTHING #1 (Of 5)

$3.99

IDW

6,450

201

6.19

SAVAGE DRAGON #140

$3.50

IMA

6,385

202

6.18

CLEANERS #1 (Of 4)

$2.99

DAR

6,370

203

6.16

SAVAGE DRAGON #141

$3.50

IMA

6,356

204

6.15

NEW BATTLESTAR GALACTICA GHOSTS #2 (Of 4)

$4.99

DE

6,345

205

6.10

BIG HERO 6 #3 (Of 5)

$3.99

MAR

6,291

206

6.01

HALLOWEEN FIRST DEATH O/LAURIE STRODE #2 (Of 3)*

$3.50

DEV

6,198

207

5.95

CITY OF DUST #2*

$2.99

RAL

6,140

208

5.80

WOLVERINE POWER PACK #1 (Of 4)

$2.99

MAR

5,984

209

5.69

SHEENA DARK RISING #2*

$3.50

DEV

5,869

210

5.61

TRANSFORMERS SPOTLIGHT OPTIMUS PRIME 3D

$5.99

IDW

5,786

211

5.59

WELCOME TO HOXFORD #4

$3.99

IDW

5,763

212

5.56

SUPER FRIENDS #9

$2.25

DC

5,739

213

5.53

PUSH #1 (Of 6)

$3.50

DC

5,706

214

5.40

STORMING PARADISE #4 (Of 6)

$2.99

DC

5,566

215

5.38

TRANSFORMERS ANIMATED ARRIVAL #4

$3.99

IDW

5,546

216

5.36

EL DIABLO #3 (Of 6)

$2.99

DC

5,531

217

5.36

VOLTRON A LEGEND FORGED #4

$3.50

DEV

5,530

218

5.22

SIMPSONS WINTER WINGDING #3

$4.99

BON

5,387

219

5.17

LEGION O/SUPER HEROES I/31ST CENTURY #20

$2.25

DC

5,338

220

5.15

FRANKLIN RICHARDS SONS OF GENIUSES

$3.99

MAR

5,314

221

5.00

PRESIDENTIAL MATERIAL BARACK OBAMA

$3.99

IDW

5,154

222

4.90

GLAMOURPUSS #4

$3.00

AAR

5,052

223

4.85

ARMY @ LOVE THE ART O/WAR #4 (Of 6) (MR)

$2.99

DC

5,003

224

4.85

MARVEL ADVENTURES SPIDER-MAN #45

$2.99

MAR

5,003

225

4.81

SHONEN JUMP DEC 08

$4.99

VIZ

4,966

226

4.68

PUSH #2 (Of 6)

$3.50

DC

4,829

227

4.66

SPIRIT SPECIAL #1

$2.99

DC

4,811

228

4.56

DYNAMO 5 #18

$3.50

IMA

4,707

229

4.56

ATOMIC ROBO DOGS O/WAR #4 (Of 5)

$2.95

RED

4,700

230

4.54

MARVEL ADVENTURES AVENGERS #30

$2.99

MAR

4,679

231

4.49

FALLEN ANGEL IDW #31 (MR)

$3.99

IDW

4,627

232

4.47

1001 ARABIAN NIGHTS ADVENTURES O/SINBAD #4

$2.99

ZEN

4,609

233

4.31

SONIC X #39

$2.25

ARC

4,451

234

4.30

PAX ROMANA #4 (Of 4)

$3.50

IMA

4,432

235

4.21

MARVEL SPOTLIGHT PUNISHER MOVIE

$2.99

MAR

4,342

236

4.17

UNCLE SCROOGE #382

$7.99

GEM

4,306

237

4.16

BAD PLANET #6 (Of 12) (MR)

$2.99

IMA

4,290

238

4.12

1001 ARABIAN NIGHTS ADVENTURES O/SINBAD #5

$2.99

ZEN

4,252

239

4.10

MARVEL ADVENTURES SUPER HEROES #5

$2.99

MAR

4,233

240

4.10

DRAGON PRINCE #3*

$2.99

IMA

4,231

241

4.09

ADVENTURES O/SPAWN #2

$5.99

IMA

4,215

242

4.05

UNCLE SCROOGE #381

$7.99

GEM

4,180

243

3.97

DRAGONLANCE LEGENDS TIME O/TWINS #3 (Of 3) PANOSIAN CVR

$5.50

DEV

4,095

244

3.94

SCOOBY DOO #138

$2.25

DC

4,068

245

3.88

UNDERWORLD RISE O/LYCANS #1

$3.99

IDW

4,001

246

3.79

BRIT #9

$2.99

IMA

3,908

247

3.77

PATRICIA BRIGGS MERCY THOMPSON HOMECOMING #1 (Of 4)

$3.99

DAB

3,890

248

3.70

FERRYMAN #3 (Of 5)

$3.50

DC

3,818

249

3.69

FINAL CRISIS RAGE O/RED LANTERNS #1

$3.99

DC

3,811

250

3.69

MARVEL ZOMBIES 3 #1 (Of 4)*

$3.99

MAR

3,805

251

3.57

TRANSHUMAN #4 (Of 4)

$3.50

IMA

3,686

252

3.56

WALT DISNEYS COMICS & STORIES #696

$7.99

GEM

3,674

253

3.52

MARVEL ILLUSTRATED ODYSSEY #3 (Of 8)

$3.99

MAR

3,631

254

3.48

BRIT #10

$2.99

IMA

3,586

255

3.46

KABUKI REFLECTIONS #11 (MR)

$5.99

MAR

3,565

256

3.44

WARHAMMER 40K EXTERMINATUS #4 (Of 5)*

$3.99

BOO

3,550

257

3.42

MARVEL ADVENTURES FANTASTIC FOUR #42

$2.99

MAR

3,523

258

3.39

UNDERWORLD RISE O/LYCANS #2

$3.99

IDW

3,493

259

3.36

WALT DISNEYS COMICS & STORIES #697

$7.99

GEM

3,466

260

3.35

WARHAMMER 40K EXTERMINATUS #5 (Of 5)*

$3.99

BOO

3,451

261

3.33

WARHAMMER 40K FIRE & HONOR #3 (Of 4)*

$3.99

BOO

3,437

262

3.29

WOLVERINE ORIGINS #28 2ND PTG VAR

$2.99

MAR

3,393

263

3.23

I KILL GIANTS #5 (Of 7)

$2.99

IMA

3,336

264

3.23

CTHULHU TALES #8*

$3.99

BOO

3,335

265

3.20

GALAXY QUEST GLOBAL WARNING #4