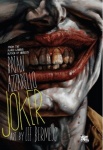 These are estimates of the sales on graphic novels by Diamond U.S. to comic specialty stores during December 2008.
For an overview and analysis of comic sales in December, see "'Secret Invasion' Finishes on Top."
For an analysis of the dollar trends in December, see "Comics Have a Strong December

."
For our estimates of actual sales by Diamond
U.S.
from comic specialty stores on comic books shipped during December, see "
Top 300 Comics Novels Actual--December 2008
."
TOP 300 GNs – December 2008

Rank

Index

Title

Price

Pub

Est.Qty

1

12.81

JOKER HC

$19.99

DC

11,973

2

7.13

WATCHMEN TP*

$19.99

DC

6,664

3

5.74

JACK OF FABLES TP VOL 04 AMERICANA (MR)

$14.99

DC

5,365

4

5.43

NARUTO TP VOL 33

$7.95

VIZ

5,075

5

4.96

STAR WARS CLONE WARS TP VOL 02 CRASH COURSE

$7.95

DAR

4,636

6

4.57

STAR WARS LEGACY TP VOL 04 ALLIANCE

$15.95

DAR

4,272

7

4.49

BLEACH TP VOL 25

$7.95

VIZ

4,197

8

4.34

ASTONISHING X-MEN HC VOL 02*

$34.99

MAR

4,057

9

4.23

ULTIMATES 3 PREM HC WHO KILLED SCARLET WITCH*

$24.99

MAR

3,954

10

4.19

BATMAN JOKERS ASYLUM TP

$14.99

DC

3,916

11

4

JSA HC VOL 03 THY KINGDOM COME PART 2

$24.99

DC

3,739

12

3.95

SUPERMAN BATMAN VENGEANCE TP

$12.99

DC

3,692

13

3.78

GREEN LANTERN SECRET ORIGIN HC

$19.99

DC

3,533

14

3.62

INVINCIBLE IRON MAN PREM HC VOL 01*

$24.99

MAR

3,384

15

3.43

SPIRIT TP VOL 01

$19.99

DC

3,206

16

3.42

BLADE OF THE IMMORTAL TP VOL 20 DEMONS LAIR

$19.95

DAR

3,197

17

3.4

WALT DISNEYS CHRISTMAS PARADE #5

$9.50

GEM

3,178

18

3.15

STAR WARS OMNIBUS RISE O/SITH

$24.95

DAR

2,944

19

3.14

X-MEN COMPLETE ONSLAUGHT EPIC TP BOOK 04

$29.99

MAR

2,935

20

3.13

CAMELOT 3000 HC DELUXE EDITION

$34.99

DC

2,926

21

3

TEEN TITANS ON THE CLOCK TP

$14.99

DC

2,804

22

2.99

WOLVERINE ORIGINS TP VOL 05 DEADPOOL

$19.99

MAR

2,795

23

2.97

SHOWCASE PRESENTS BRAVE & BOLD BATMAN TEAMUPS VOL 03

$16.99

DC

2,776

24

2.9

YOUNG LIARS TP VOL 01 DAYDREAM BELIEVER (MR)

$9.99

DC

2,711

25

2.81

NEGIMA GN VOL 20 (MR)

$10.95

RAN

2,626

26

2.81

RUNAWAYS TP DEAD END KIDS

$15.99

MAR

2,626

27

2.81

BATMAN PRIVATE CASEBOOK HC

$19.99

DC

2,626

28

2.77

V FOR VENDETTA TP*

$19.99

DC

2,589

29

2.72

MIGHTY AVENGERS PREM HC VOL 03 SECRET INVASION BOOK 01

$19.99

MAR

2,542

30

2.69

SPIDER-MAN TP VOL 02 BRAND NEW DAY

$19.99

MAR

2,514

31

2.55

SHOWCASE PRESENTS SUPERGIRL TP VOL 02

$16.99

DC

2,383

32

2.28

HULK 100 PROJECT

$10.00

UPP

2,131

33

2.24

PROJECT SUPERPOWERS HC VOL 01

$29.99

DE

2,094

34

2.22

CAPTAIN AMERICA TP CHOSEN

$19.99

MAR

2,075

35

2.2

CABLE TP VOL 01 MESSIAH WAR

$14.99

MAR

2,056

36

2.2

DAREDEVIL MAN WITHOUT FEAR PREM HC*

$24.99

MAR

2,056

37

2.19

LEGION OF SUPER-HEROES THE MORE THINGS CHANGE TP

$17.99

DC

2,047

38

2.18

BATMAN THE KILLING JOKE SPECIAL ED HC

$17.99

DC

2,038

39

2.18

SUPERMAN PAST & FUTURE TP

$19.99

DC

2,038

40

2.12

ESSENTIAL WOLVERINE TP VOL 05

$16.99

MAR

1,982

41

2.11

BATTLE ANGEL ALITA LAST ORDER TP VOL 10

$9.99

VIZ

1,972

42

2.1

INFINITY CRUSADE TP VOL 01

$29.99

MAR

1,963

43

2.09

MMW AVENGERS HC VOL 08*

$54.99

MAR

1,954

44

2.05

LEGEND OF ZELDA GN VOL 02

$7.99

VIZ

1,916

45

2.04

BRAVE & BOLD LORDS O/LUCK TP

$17.99

DC

1,907

46

2.03

DAREDEVIL BY MILLER JANSON TP VOL 02

$29.99

MAR

1,897

47

1.92

GUARDIANS O/GALAXY PREM HC VOL 01 LEGACY

$19.99

MAR

1,795

48

1.9

FABLES TP VOL 11 WAR & PIECES (MR)

$17.99

DC

1,776

49

1.89

WATCHMEN THE ABSOLUTE EDITION HC

$75.00

DC

1,767

50

1.88

SPAWN BOOK O/DEAD HC TOY ED

$32.99

IMA

1,757

51

1.85

X-FACTOR TP VOL 05 ONLY GAME IN TOWN

$15.99

MAR

1,729

52

1.8

MPD PSYCHO TP VOL 07 (MR)

$12.95

DAR

1,682

53

1.8

ULTIMATE ELEKTRA DEVILS DUE TP

$11.99

MAR

1,682

54

1.8

VINYL UNDERGROUND TP VOL 02 PRETTY DEAD THINGS (MR)

$17.99

DC

1,682

55

1.79

ANITA BLAKE VH GUILTY PLEASURES TP VOL 02

$15.99

MAR

1,673

56

1.77

FABLES TP VOL 01 LEGENDS IN EXILE

$9.99

DC

1,654

57

1.76

ONSLAUGHT REBORN TP

$14.99

MAR

1,645

58

1.74

ALIENS OMNIBUS TP VOL 06

$24.95

DAR

1,626

59

1.73

BLOOD PLUS GN VOL 04

$10.95

DAR

1,617

60

1.7

SPAWN NEO NOIR TP

$14.95

IMA

1,589

61

1.7

SECRET WARS OMNIBUS HC*

$99.99

MAR

1,589

62

1.69

LONE RANGER TP VOL 02 LINES NOT CROSSED

$14.99

DE

1,580

63

1.69

PHANTOM DREAM GN VOL 01 (Of 5) (MR)

$9.99

TKP

1,580

64

1.66

NEW EXILES TP VOL 02 SOUL AWAKENING

$15.99

MAR

1,552

65

1.62

ESSENTIAL PUNISHER TP VOL 03

$16.99

MAR

1,514

66

1.62

AVENGERS PREM HC FIRST TO LAST*

$34.99

MAR

1,514

67

1.58

CREEPY ARCHIVES HC VOL 02

$49.95

DAR

1,477

68

1.58

DAREDEVIL PREM HC YELLOW

$24.99

MAR

1,477

69

1.55

BATMAN DARK KNIGHT RETURNS TP

$14.99

DC

1,449

70

1.54

NOVA ANNIHILATION HC

$34.99

MAR

1,439

71

1.51

MARVEL ADVENTURES SPIDER-MAN TP VOL 11 DIGEST

$8.99

MAR

1,411

72

1.42

ROSARIO VAMPIRE GN VOL 04

$7.99

VIZ

1,327

73

1.42

WHAT IF CLASSIC TP VOL 05

$29.99

MAR

1,327

74

1.4

WALKING DEAD TP VOL 01 DAYS GONE BYE

$9.99

IMA

1,309

75

1.38

MICE TEMPLAR HC VOL 01 THE PROPHECY

$29.99

IMA

1,290

76

1.36

FULLMETAL ALCHEMIST TP VOL 17

$9.99

VIZ

1,271

77

1.36

BTVS SEASON 8 TP VOL 03 WOLVES AT THE GATE

$15.95

DAR

1,271

78

1.35

SILVERFISH TP (MR)

$17.99

DC

1,262

79

1.34

LONE RANGER HC VOL 02 LINES NOT CROSSED

$19.99

DE

1,252

80

1.33

Y THE LAST MAN TP VOL 01 UNMANNED

$12.99

DC

1,243

81

1.33

WALKING DEAD TP VOL 02 MILES BEHIND US (MR)

$12.99

IMA

1,243

82

1.33

BTVS SEASON 8 TP VOL 02 NO FUTURE FOR YOU

$15.95

DAR

1,243

83

1.31

PROGRAMME TP VOL 02

$17.99

DC

1,224

84

1.31

SPIDER-MAN DOCTOR OCTOPUS NEGATIVE EXPOSURE TP

$13.99

MAR

1,224

85

1.31

WOLVERINE DANGEROUS GAMES PREM HC

$24.99

MAR

1,224

86

1.29

ARCHIES GREATEST HITS TP VOL 01

$9.95

ARC

1,206

87

1.29

CHIBI VAMPIRE GN VOL 12 (Of 13) (MR)

$9.99

TKP

1,206

88

1.29

X-MEN TP ANGEL REVELATIONS

$19.99

MAR

1,206

89

1.28

WALKING DEAD TP VOL 08 MADE TO SUFFER (MR)

$14.99

IMA

1,196

90

1.28

GENTLEMENS ALLIANCE TP VOL 08

$8.99

VIZ

1,196

91

1.28

AMERICAN FLAGG DEFINITIVE COLL TP VOL 01

$19.99

IMA

1,196

92

1.25

CALIBER HC VOL 01 FIRST CANON OF JUSTICE

$19.95

RAL

1,168

93

1.25

HERCULES HC VOL 01 THE THRACIAN WARS

$19.95

RAL

1,168

94

1.25

PUNISHER WAR JOURNAL PREM HC VOL 04 JIGSAW

$19.99

MAR

1,168

95

1.25

PULSE TP VOL 01 THIN AIR

$13.99

MAR

1,168

96

1.24

TRANSFORMERS MORE THAN MEETS THE EYE TP VOL 02

$24.99

IDW

1,159

97

1.24

HULK GIANT-SIZE HC DM ED

$19.99

MAR

1,159

98

1.24

MIDNIGHTER TP VOL 03 ASSASSIN8

$14.99

DC

1,159

99

1.24

TEEN TITANS SPOTLIGHT RAVEN TP

$14.99

DC

1,159

100

1.23

OFF HB MARVEL UNIV A TO Z PREM HC VOL 06

$24.99

MAR

1,150

101

1.23

PREACHER TP VOL 01 GONE TO TEXAS NEW EDITION (MR)

$14.99

DC

1,150

102

1.23

BTVS SEASON 8 TP VOL 01 LONG WAY HOME

$15.95

DAR

1,150

103

1.23

GENEXT TP

$15.99

MAR

1,150

104

1.22

END LEAGUE TP VOL 01 BALLAD OF BIG NOTHING

$12.95

DAR

1,140

105

1.21

GOTHIC AND LOLITA BIBLE VOL 04 (Of 6)

$19.99

TKP

1,131

106

1.21

HEDGE KNIGHT II TP SWORN SWORD

$15.99

MAR

1,131

107

1.19

MARVEL ADVENTURES HULK TP VOL 04 DIGEST

$8.99

MAR

1,112

108

1.15

UMBRELLA ACADEMY APOCALYPSE SUITE TP

$17.95

DAR

1,075

109

1.14

JUNGLE GIRL HC VOL 01

$19.99

DE

1,066

110

1.14

CODE GEASS SUZAKU O/COUNTERATTACK GN VOL 01

$9.99

BAN

1,066

111

1.13

TEZUKAS BLACK JACK PX HC VOL 02

$24.95

RAN

1,056

112

1.13

ALL NEW ATOM TP VOL 04 SMALL WONDER

$17.99

DC

1,056

113

1.12

TRANSFORMERS ANIMATED TP VOL 06

$7.99

IDW

1,047

114

1.12

STAR TREK ASSIGNMENT EARTH TP

$19.99

IDW

1,047

115

1.12

COMPLETE TERRY & THE PIRATES HC VOL 05

$49.99

IDW

1,047

116

1.1

AMAZING SPIDER-GIRL TP BRAND NEW DAY VOL 04

$16.99

MAR

1,028

117

1.1

BAKUGAN GN VOL 01 BATTLE BEGINS

$7.99

RAN

1,028

118

1.1

PROOF TP VOL 02

$12.99

IMA

1,028

119

1.09

BLACK LAGOON GN VOL 03 (MR)

$12.99

VIZ

1,019

120

1.08

WASTELAND TP BOOK 03 BLACK STEEL IN THE HOUR O/CHAOS (MR)

$13.95

ONI

1,009

121

1.08

BOYS DEFINITIVE ED (MR)

$75.00

DE

1,009

122

1.07

DARK TOWER LONG ROAD HOME HC

$24.99

MAR

1,000

123

1.07

SANDMAN TP VOL 01 PRELUDES & NOCTURNES

$19.99

DC

1,000

124

1.07

CIVIL WAR TP

$24.99

MAR

1,000

125

1.06

WALKING DEAD TP VOL 03 SAFETY BEHIND BARS

$12.99

IMA

991

126

1.04

RED SONJA TP VOL 05 WORLD ON FIRE (MR)

$19.99

DE

972

127

1.03

WAR AT ELLSMERE TP

$12.95

SLA

963

128

1.01

BATMAN THE LONG HALLOWEEN TP

$19.99

DC

944

129

1.01

BUCK ROGERS IN 25TH CENTURY DAILIES HC VOL 01 1929 1931

$39.99

HER

944

130

1.01

Y THE LAST MAN TP VOL 02 CYCLES (MR)

$12.99

DC

944

131

1

WALKING DEAD TP VOL 04 HEARTS DESIRE (MR)

$12.99

IMA

935

132

0.99

STARCRAFT FRONTLINE GN VOL 02 (Of 3)

$10.99

TKP

925

133

0.97

DOCTOR WHO CLASSICS TP VOL 02

$19.99

IDW

907

134

0.97

CAPTAIN AMERICA PREM HC VOL 03 DEATH CAPT AMERICA

$19.99

MAR

907

135

0.95

INFINITY INC TP VOL 02 THE BOGEYMAN

$14.99

DC

888

136

0.95

ARKHAM ASYLUM ANNIVERSARY ED SC (MR)

$17.99

DC

888

137

0.92

GODLAND TP VOL 04 AMPLIFIED NOW

$14.99

IMA

860

138

0.92

FABLES TP VOL 02 ANIMAL FARM

$12.99

DC

860

139

0.92

NEW BATTLESTAR GALACTICA SEASON ZERO TP VOL 01*

$19.99

DE

860

140

0.91

Y THE LAST MAN TP VOL 03 ONE SMALL STEP (MR)

$12.99

DC

851

141

0.91

SERENITY BETTER DAYS TP

$9.95

DAR

851

142

0.9

YU GI OH GX GN VOL 02

$7.99

VIZ

841

143

0.9

DOT HACK SIGN GU GN VOL 04 (Of 4)

$9.99

TKP

841

144

0.9

WALKING DEAD TP VOL 06 SORROWFUL LIFE (MR)

$12.99

IMA

841

145

0.9

BOYS TP VOL 03 (MR)

$19.99

DE

841

146

0.87

WANTED GN (NEW PTG)

$19.99

IMA

813

147

0.86

FATE STAY NIGHT GN VOL 02 (Of 5)

$9.99

TKP

804

148

0.86

COMPLEAT NEXT MEN TP VOL 02

$24.99

IDW

804

149

0.85

FALL OF CTHULHU TP VOL 03 GRAY MAN

$15.99

BOO

794

150

0.84

HULK WWH TP

$24.99

MAR

785

151

0.84

Y THE LAST MAN TP VOL 10 WHYS AND WHEREFORES (MR)

$14.99

DC

785

152

0.84

WARHAMMER 40K EXTERMINATUS TP VOL 01

$16.99

BOO

785

153

0.84

SGT FROG GN VOL 16 (Of 16)

$9.99

TKP

785

154

0.82

WALKING DEAD TP VOL 07 THE CALM BEFORE (MR)

$12.99

IMA

766

155

0.82

NOCTURNAL CONSPIRACIES NINETEEN DREAMS GN

$14.95

NBM

766

156

0.82

LOOKING FOR GROUP TP VOL 01

$14.95

BLI

766

157

0.82

JACK AND THE BOX GN

$12.95

RAW

766

158

0.81

KINGDOM COME TP NEW EDITION

$17.99

DC

757

159

0.81

NORTHLANDERS TP VOL 01 SVEN THE RETURNED (MR)

$9.99

DC

757

160

0.81

ANIMA GN VOL 10

$9.99

TKP

757

161

0.81

JLA AVENGERS TP

$19.99

DC

757

162

0.8

DEMONWARS TP VOL 02 DEMON SPIRIT

$18.99

DEV

748

163

0.79

WALKING DEAD TP VOL 05 BEST DEFENSE (MR)

$12.99

IMA

738

164

0.78

GET BACKERS INFINITY FORTRESS GN VOL 02 (Of 13) (MR)

$9.99

TKP

729

165

0.78

BATMAN YEAR ONE DELUXE SC

$14.99

DC

729

166

0.78

FABLES TP VOL 10 THE GOOD PRINCE (MR)

$17.99

DC

729

167

0.78

HEROES HC VOL 02*

$29.99

DC

729

168

0.78

Y THE LAST MAN TP VOL 04 SAFEWORD (MR)

$12.99

DC

729

169

0.77

WILD ONES GN VOL 05 (C: 1-0-0)

$8.99

VIZ

720

170

0.77

COMP GREEN LAMA FEATURING ART OF MAC RABOY HC VOL 02

$49.95

DAR

720

171

0.77

CASTLEVANIA CURSE OF DARKNESS GN VOL 02 (Of 2)

$9.99

TKP

720

172

0.76

FABLES TP VOL 03 STORYBOOK LOVE (MR)

$14.99

DC

710

173

0.76

NEW AVENGERS HC VOL 09 SECRET INVASION

$19.99

MAR

710

174

0.76

GAKUEN ALICE GN VOL 05 (Of 15)

$9.99

TKP

710

175

0.76

FABLES COVERS BY JAMES JEAN HC (MR)

$39.99

DC

710

176

0.76

RAVE MASTER GN VOL 31 (Of 35)

$9.99

TKP

710

177

0.76

BOYS TP VOL 01 (MR)

$16.99

DE

710

178

0.75

HERBIE ARCHIVES HC VOL 02

$49.95

DAR

701

179

0.75

SERENITY TP

$9.95

DAR

701

180

0.74

PAINKILLER JANE VS TERMINATOR TP VOL 01

$14.99

DE

692

181

0.74

SULK GN VOL 02 DEADLY AWESOME (MR)

$10.00

TOP

692

182

0.74

EYESHIELD 21 TP VOL 23

$7.99

VIZ

692

183

0.74

NAOKI URASAWAS MONSTER TP VOL 18

$9.99

VIZ

692

184

0.73

KING OF HELL GN VOL 21 (Of 26)

$9.99

TKP

682

185

0.73

Y THE LAST MAN TP VOL 05 RING OF TRUTH (MR)

$14.99

DC

682

186

0.73

WARREN ELLIS AETHERIC MECHANICS GN (MR)*

$6.99

AVA

682

187

0.73

PRINCESS AI PRISM OF MIDNIGHT DAWN GN VOL 01 (Of 3)

$10.99

TKP

682

188

0.72

BOYS TP VOL 02 GET SOME (MR)

$19.99

DE

673

189

0.72

Y THE LAST MAN TP VOL 07 PAPER DOLLS (MR)

$14.99

DC

673

190

0.72

HERO HEEL GN VOL 03 (Of 3) (MR)

$12.95

DIG

673

191

0.72

BLUE SHEEP REVERIE GN VOL 01 (Of 2) (MR)

$12.95

DIG

673

192

0.72

BURST ANGEL MANGA VOL 02 (Of 3) (MR)

$9.99

TKP

673

193

0.72

THOR VISIONARIES WALT SIMONSON TP VOL 01 NEW PTG

$29.99

MAR

673

194

0.71

Y THE LAST MAN TP VOL 09 MOTHERLAND (MR)

$14.99

DC

664

195

0.71

Y THE LAST MAN TP VOL 06 GIRL ON GIRL (MR)

$12.99

DC

664

196

0.71

FROM HELL TP

$35.00

TOP

664

197

0.7

LOVEHOLIC GN VOL 02 (Of 2) (MR)

$12.95

DIG

654

198

0.69

SUPERMAN RED SON TP

$17.99

DC

645

199

0.69

DANCE IN THE VAMPIRE BUND GN VOL 03 (MR)

$9.99

ST.

645

200

0.69

EXCEL SAGA TP VOL 18

$9.99

VIZ

645

201

0.69

DARK TOWER GUNSLINGER BORN PREM HC

$24.99

MAR

645

202

0.69

BATMAN HUSH TP VOL 01

$12.99

DC

645

203

0.68

SUPERMARKET TP (NEW PTG)

$14.99

IDW

636

204

0.68

SHARDS OF AFFECTION GN (MR)

$12.95

DIG

636

205

0.67

PREACHER TP VOL 02 UNTIL THE END O/WORLD NEW EDITION

$14.99

DC

626

206

0.67

Y THE LAST MAN TP VOL 08 KIMONO DRAGONS (MR)

$14.99

DC

626

207

0.67

IRON MAN EXTREMIS TP

$14.99

MAR

626

208

0.67

ST DRAGON GIRL GN VOL 01

$8.99

VIZ

626

209

0.66

NOBLE CAUSES TP VOL 08 STAR CROSSED

$15.99

IMA

617

210

0.66

TOGAINU NO CHI GN VOL 01 (Of 5) (MR)

$10.99

TKP

617

211

0.66

DEAD SHE SAID HC

$19.99

IDW

617

212

0.66

ARMAGEDDON NOW WWIII HC

$24.99

IMA

617

213

0.65

SAMURAI DEEPER KYO GN VOL 32 (Of 38) (MR)

$9.99

TKP

608

214

0.65

YU YU HAKUSHO TP VOL 16

$7.95

VIZ

608

215

0.65

100 BULLETS TP VOL 01 FIRST SHOT LAST CALL

$9.99

DC

608

216

0.64

ALL STAR SUPERMAN TP VOL 01

$12.99

DC

598

217

0.64

WHITE BRAND GN (MR)

$12.95

DIG

598

218

0.64

SANDMAN TP VOL 02 THE DOLLS HOUSE

$19.99

DC

598

219

0.63

BATMAN GOTHAM UNDERGROUND TP

$19.99

DC

589

220

0.63

DRAGONBALL Z VIZBIG ED GN VOL 03

$17.99

VIZ

589

221

0.62

TRICKY PRINCE GN (MR)

$12.95

DIG

580

222

0.62

GABA KAWA GN

$8.99

VIZ

580

223

0.61

AMERICAN FREAKSHOW GN

$17.99

IDW

570

224

0.61

PS238 TP VOL 06 SENSELESS ACTS OF TOURISM

$15.99

DO

570

225

0.61

MAMOTTE SHUGOGETTEN GN VOL 03 (Of 10)

$12.99

TKP

570

226

0.6

MOME GN VOL 13

$14.99

FAN

561

227

0.6

ARIA GN VOL 04 (Of 12) (MR)

$9.99

TKP

561

228

0.6

FABLES TP VOL 04 MARCH O/WOODEN SOLDIERS (MR)

$17.99

DC

561

229

0.6

SQUEE TP

$15.95

SLA

561

230

0.6

THOR BY J MICHAEL STRACZYNSKI TP VOL 01

$14.99

MAR

561

231

0.59

LOEG VOL ONE TP

$14.99

DC

551

232

0.59

THIEVES & KINGS APPRENTICES GN VOL 01

$15.00

I B

551

233

0.59

SEA VIEW GN (MR)

$12.95

DIG

551

234

0.59

TAIL OF THE MOON TP VOL 14

$8.99

VIZ

551

235

0.59

TACTICS GN VOL 07 (Of 9)

$9.99

TKP

551

236

0.59

FABLES TP VOL 05 THE MEAN SEASONS (MR)

$14.99

DC

551

237

0.59

DRAGON DRIVE TP VOL 11

$7.99

VIZ

551

238

0.59

CRAYON SHINCHAN VOL 06 (MR)

$7.99

DC

551

239

0.58

HONEY & CLOVER GN VOL 04

$8.99

VIZ

542

240

0.58

HULK PREM HC VOL 01 RED HULK

$24.99

MAR

542

241

0.57

ALL STAR BATMAN AND ROBIN THE BOY WONDER HC VOL 01

$24.99

DC

533

242

0.57

BEASTS B0OK 02 HC

$34.99

FAN

533

243

0.57

INITIAL D GN VOL 33 (Of 37)

$9.99

TKP

533

244

0.56

VAGABOND VIZBIG ED GN VOL 02 (MR)

$19.99

VIZ

523

245

0.56

SUZUKA GN VOL 10 (MR)

$13.99

RAN

523

246

0.56

FABLES TP VOL 09 SONS OF EMPIRE (MR)

$17.99

DC

523

247

0.56

TALES FROM THE CRYPT GN VOL 05 YABBA DABBA VOODOO

$7.95

NBM

523

248

0.56

MONKEY HIGH GN VOL 04

$8.99

VIZ

523

249

0.55

KYO KARA MAOH GN VOL 02 (Of 4)

$9.99

TOK

514

250

0.55

MIXED VEGETABLES GN VOL 02

$8.99

VIZ

514

251

0.55

WALKING DEAD HC VOL 01 (MR)

$29.99

IMA

514

252

0.55

BOYS OVER FLOWERS TP VOL 33

$9.99

VIZ

514

253

0.54

SANDMAN TP VOL 03 DREAM COUNTRY

$14.99

DC

505

254

0.54

ME & MY BROTHERS GN VOL 06 (Of 9)

$9.99

TKP

505

255

0.54

PUNISHER MAX TP VOL 01 IN THE BEGINNING (MR)

$14.99

MAR

505

256

0.53

MUSHISHI GN VOL 06 (MR)

$12.99

RAN

495

257

0.53

RUROUNI KENSHIN VIZBIG ED GN VOL 04 (Of 9)

$17.99

VIZ

495

258

0.53

PREACHER TP VOL 03 PROUD AMERICANS NEW EDITION (MR)

$14.99

DC

495

259

0.53

PUNISHER MAX TP VOL 04 UP IS DOWN AND BLACK IS WHITE (MR)

$14.99

MAR

495

260

0.52

100 BULLETS TP VOL 12 DIRTY (MR)

$12.99

DC

486

261

0.52

HULK TP PLANET HULK

$34.99

MAR

486

262

0.52

HELLBOY TP VOL 01 SEED OF DESTRUCTION

$17.95

DAR

486

263

0.52

CAPTAIN AMERICA TP VOL 01 DEATH OF CAPTAIN AMERICA

$14.99

MAR

486

264

0.52

FABLES TP VOL 07 ARABIAN NIGHTS AND DAYS (MR)

$14.99

DC

486

265

0.52

BATMAN DARK VICTORY TP

$19.99

DC

486

266

0.52

FABLES TP VOL 06 HOMELANDS (MR)