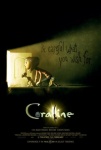 Even though Hollywood got a huge boost in 2008 from The Dark Knight and Iron Man (along with assists from Wanted, Hellboy II, and The Incredible Hulk), the writers' strike last winter hobbled Tinseltown's ability to provide much in the way of spandex epics in 2009. Fox's X-Men Origins: Wolverine is the only big-budget superhero film slated for the peak summer movie season of 2009, but it is hardly the only comic-based movie of the year, nor the only film with the potential to drive sales of comics, graphic novels, toys, trading cards, games and DVDs. Here is a list that includes some of the best bets (and longshots) from the first half of 2009. For a look a films from the second half of the year, see "Best in Shows 2009, Pt. II."
Underworld: Rise of the Lycans January 23
This third film in the series, a prequel story, opens this weekend. IDW did the movie adaptation and the Underworld Trilogy graphic novel is now available.
Coraline February 6
Henry Selick helmed this stop-motion animated adaptation of Neil Gaiman's horror novella for young readers. It is likely that Selick, who directed the cult hit Nightmare Before Christmas, will broaden the appeal of the PG-rated film to include teens and adults. HarperCollins has a number of editions of Gaiman's novella coming out as well as the graphic novel version by P. Craig Russell.
Fanboys February 6
This saga of a group of Star Wars fans who make a pilgrimage across the country in 1998 to see Star Wars: Episode 1 The Phantom Menace before one of them dies, doesn't have a lot of tie-ins, but it does celebrate fandom—and it is likely to be released with its "cancer" storyline intact only because of the concerted actions of fans who waged a ferocious Internet campaign against the senseless bowdlerization of the film.
Street Fighter: The Legend of Chun Li February 27
Smallville's Kristin Kreuk stars in this live action film based on the Capcom video game, which could spur some interest in the Street Fighter comics, manga, and anime.
Watchmen March 6
No film has sold more books than Zack Snyder's adaptation of Watchmen—the trailer for the film ignited a sales explosion that is still rippling through the comic and bookstore markets where Watchmen has remained the best-selling graphic novel since July. Now that the Fox/Warner Bros. lawsuit has been settled, sales of all sorts of Watchmen merchandise could well ensue. The graphic novel's ascendance will likely continue regardless of the reception of the movie (reactions to the trailer and footage released so far have been stellar, but the filmmakers did change the ending, so some uncertainty about the film's prospects is likely to remain until after its opening week).
Monsters and Aliens March 27
Loosely based on the "Rex Havoc and the Ass-Kickers of the Fantastic" comics that appeared in Warren Presents in 1981, this Dreamworks 3-D animated feature has received a massive promotional campaign that will include Super Bowl spots It looks like it could be a Kung Fu Panda-size hit with loads of merchandising possibilities.
Dragonball Evolution April 8
Fox's live action adaptation of Akira Toriyama's Dragonball manga features a sanitized Master Roshi, which is likely to alienate hardcore fans, but the jury is still out on this new iteration of the mega-popular property. Funimation's budget-priced Dragonball Z Season Sets remain among the most popular anime releases, and this move and its appearance on DVD could familiarize younger viewers with this evergreen property, which doesn't get much TV exposure anymore.
Hannah Montana: The Movie April 10
This movie can't fail to be a hit with its target audience of tween girls and should stimulate sales of related merchandise such as Tokyopop's Cine-Manga.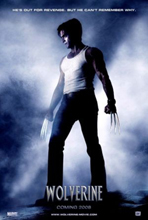 X-Men Origins: Wolverine
May 1
With no other comic book superhero competition this film should do well and drive sales of X-Men toys and books. Wolverine remains one of Marvel's most popular characters, and having him played by Hugh ("the sexiest man alive") Jackman won't hurt. Marvel has a number of classic Wolverine comic book collections that could benefit (particularly in the bookstore market) if this film manages to capture the essence of the Wolverine character.
Star Trek May 8
Can director J.J. Abrams (Alias, Lost) revive the Star Trek franchise with a sharp young cast playing the characters from the original series just after they graduated from the Academy? There are lots of comic book (IDW), manga (Tokyopop), book (Hermes), and other merchandise possibilities if this film turns out to be a hit.
Terminator Salvation May 22
This effects-heavy blockbuster franchise returns for a fourth go-round during a summer in which because of the writers' strike there will be less competition than there has been in the past. IDW has comics while Titan has "making of" titles and both have a chance to do very well if this movie can revivify the Terminator franchise.
Up May 29
Up is the latest in a long string of original projects from Pixar. The premise of this film about an old man and chubby boy scout who end up exploring mountains in Venezuela, doesn't sound too promising, but Pixar (Wall-E, The Incredibles) always seems to deliver and this 3-D feature could benefit if that format gathers steam as many in Hollywood expect.
Land of the Lost June 5
Will Ferrell stars in this comedy/adventure based on the goofy 1980s kids show from Sid and Marty Krofft. There will be comedies released this summer that will prosper at the box office as "change-of-pace" fare, though it's by no means certain that this will be one of them--but a number of 1980's "kids" shows like the Transformers have done well on the big screen.
Transformers: Revenge of the Fallen
June 26
This sequel to the hugely successful first live action Transformers movie is likely to be one of the summer's big hits and drive sales of Hasbro's Transformers toys and IDW's extensive line of Transformers comics.