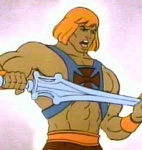 Start teasing up the "big hair," slip in the shoulder pads, and pull out those parachute pants, the wave of 1980s nostalgia is gathering force—Variety is reporting that Warner Bros. and Joel Silver have tapped Kung Fu Panda co-director John Stevenson to helm a live action adaptation of He Man and the Masters of Universe. With Hasbro's Transformers live action film already a huge hit and a G.I. Joe film on the way (see "Best in Shows: 2009, Part II"), it is easy to see why Mattel is pushing hard to get a He-Man movie, which has been in development since 2007 (see "Silver Pushes He-Man Movie"), to the big screen.
Mattel is hoping that viewers will have long forgotten the first He-Man live action movie, a campy 1987 crapfest that starred the splinter-inducing Dolph Lundgren and Frank (Frost/Nixon) Langella (in a role he would rather forget) as Skeletor.
Stevenson, who began his career with Jim Henson where he worked on The Dark Crystal and Labyrinth, has also been involved with the production of Shrek, Shrek 2, Madagascar, and James and the Giant Peach as well as with the well-received Kung-Fu Panda. According to Variety, Warners is hoping that Stevenson will be able to "elevate" this reimagining of the He-Man mythos that will be based on a script by Justin Marks (Street Fighter, Voltron, Hack/Slash).