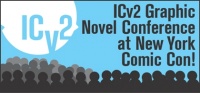 A major survey of graphic novel buyers, conducted by ICv2 and New York Comic Con with support from Diamond Comic Distributors, found retailers and librarians in an optimistic mood in the midst of a major global financial crisis. "I was pretty surprised when I saw these results," ICv2 president Milton Griepp said of the survey. "We did the survey in January, after the holiday season, so the respondents have had a good chance to see the effects of the financial crisis. To see so much optimism is really quite remarkable."
Among the hundreds of retailers responding to the survey, which included comic stores, bookstores, and online retailers, over 50% believed sales would increase in 2009 vs. 2008, and less than 15% believed sales would decline. Nearly 50% of retailers responding planned to increase the space allocated to graphic novels, with less than 10% planning to decrease graphic novel space.
On the library front, over 50% of responding librarians expected graphic novel acquisitions in their libraries to increase in 2009 vs. 2008, with under 10% expecting a decline. Over 55% of librarians responded planned to increase the space devoted to graphic novels, with less than 2% planning a decline.
Spreads this big are a very positive sign for the growth of graphic novels in 2009, which if events meet buyers' expectations will be a welcome respite from the endless drip of bad news from other categories.